Alice Carrière, "Everything/Nothing/Someone" in conversation with Daphne Merkin
Coming-of-Age in the Bohemian '90s:
An Evening with Alice Carrière
---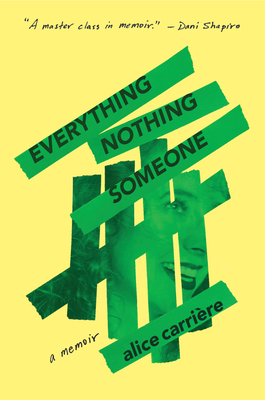 A powerful literary debut that tells of a young woman's coming-of-age in the bohemian '90s, as her adolescence gives way to a struggle with dissociative disorder.
Alice Carrière tells the story of her unconventional upbringing in Greenwich Village as the daughter of a remote mother, the renowned artist Jennifer Bartlett, and a charismatic father, European actor Mathieu Carrière. From an early age, Alice is forced to navigate her mother's recovered memories of ritualized sexual abuse, which she turns into art, and her father's confusing attentions. Her days are a mixture of privilege, neglect, loneliness, and danger—a child living in an adult's world, with little-to-no enforcement of boundaries or supervision.
When she enters adolescence, Alice begins to lose her grasp on herself, as a dissociative disorder erases her identity and overzealous doctors medicate her further away from herself. She inhabits various roles: as a patient in expensive psychiatric hospitals, a denizen of the downtown New York music scene, the ingenue in destructive encounters with older men—ricocheting from experience to experience until a medication-induced psychosis brings these personas crashing down. Eventually, she finds purpose in caring for her mother as she descends into dementia, in a love affair with a recovering addict who steadies her, in confronting her father whose words and actions splintered her, and in finding her voice as a writer.
With gallows humor and brutal honesty, Everything/Nothing/Someone explores what it means for our body and mind to belong to us wholly, irrevocably, and on our own terms. In pulsing, energetic prose that is both precise and probing, Alice manages to untangle the stories told to her by her parents, the American psychiatric complex, and her own broken mind to craft a unique and mesmerizing narrative of emergence and, finally, cure.
Alice Carrière is a graduate of Columbia University. This is her first book. She lives in Nashville, Tennessee, and Amagansett, New York.
Daphne Merkin is the author of Enchantment (1986), which won the Edward Lewis Wallant Award for best novel on a Jewish theme and has just been reissued by Picador (2020). She has also published two collections of essays, The Fame Lunches (2014, FSG ) and Dreaming of Hitler (1997, Crown), as well as a memoir about her life-long struggle with depression, This Close to Happy (2017). Her new novel 22 Minutes of Unconditional Love was published in July 2020 by Farrar, Straus & Giroux.
A former staff writer for The New Yorker, Merkin's cultural criticism and book pieces frequently appear in The New York Times Book Review & Magazine, The Wall Street Journal, Bookforum, The New York Review of Books, The New Republic, Departures, Elle, Travel + Leisure, Tablet, and many other publications. Merkin has taught writing at the 92nd Street Y, Marymount Manhattan College, Hunter College, and currently teaches at Columbia University's MFA program. She lives in New York City.
Event date:
Friday, September 1, 2023 - 5:00pm EDT
Event address:
BookHampton
41 Main Street

$28.00

ISBN: 9781954118294
Availability: On Our Shelves; Typically Ships in 1 - 2 Days
Published: Spiegel & Grau - August 29th, 2023
---