Guillain-Barre Syndrome: Here Is What You Should Do for Your Guillain-Barre Syndrome (Paperback)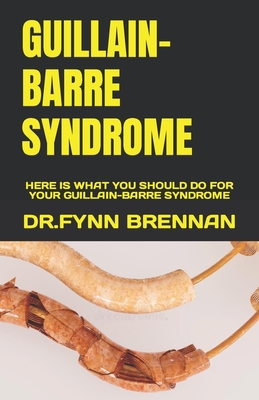 $14.50
Email or call for price.
Description
---
A rare illness called Guillain-Barre syndrome (GBS) causes paralysis when the body's immune system erroneously targets the peripheral nervous system.
When GBS is severe, it can be fatal.
GBS can also develop after a serious injury, such as a whiplash, but viral infections like the common cold are the most frequent cause.
The disease typically manifests as an abrupt onset of severe weakness in one or more arms or legs.
The person can lose their ability to move and feel their muscles within a few hours.
GBS can cause total paralysis within 72 hours.
Supportive care and drugs to maintain comfort are frequently used in treatment.
Although early diagnosis and therapy can help the condition, there is currently no known cure for GBS.
GBS can result in permanent impairment if untreated.
The nerve disorder Guillain-Barr syndrome (GBS) is uncommon and occasionally fatal.
Muscle weakness, tingling, and discomfort in the limbs and chest are a few symptoms that can occur.
A virus that targets the nervous system is what causes GBS.
Although there is no known cure, supportive care and antibiotics may be used in treatment. The virus that causes varicella-zoster most frequently causes GBS (VZV).
The herpes simplex virus, the human immunodeficiency virus (HIV), and other viruses are further culprits.
Reiter's syndrome, an uncommon illness, is another factor that can lead to GBS. After being exposed to the virus, a person with GBS may experience symptoms for a few days to a few weeks.
A sudden onset of muscle weakness is the most typical symptom, followed by tingling and pain in the limbs and chest. Additional symptoms include dizziness, fever, and difficulty breathing.