American Ramble: A Walk of Memory and Renewal (MP3 CD)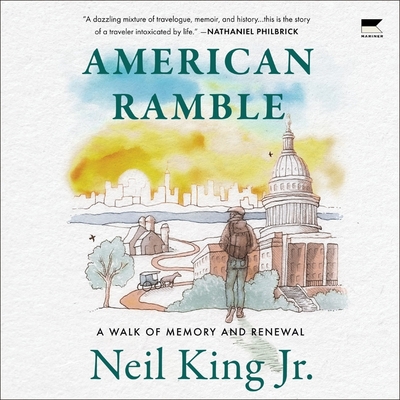 $41.99

Usually Ships in 1-5 Days
Staff Reviews
---
The story of the author's 330-mile, 26-day walk from his home in Washington, D.C. to New York City in the spring of 2021. King, a recent cancer survivor, travels hallowed and common ground deep into America's past and present, evoking both memory and renewal. His writing combines the observations of a seasoned reporter, a historian's knowledge, and the curiosity of a committed citizen trying to make sense of modern America. A heartfelt memoir by a gifted writer.
— Carolyn
Description
---
A stunning, revelatory memoir about a 330-mile walk from Washington, D.C., to New York City--an unforgettable pilgrimage to the heart of America across some of our oldest common ground.
Neil King Jr.'s desire to walk from Washington, D.C., to New York City began as a whim and soon became an obsession. By the spring of 2021, events had intervened that gave his desire greater urgency. His neighborhood still reeled from the January 6th insurrection. Covid lockdowns and a rancorous election had deepened America's divides. Neil himself bore the imprints of a long battle with cancer.
Determined to rediscover what matters in life and to see our national story with new eyes, Neil turned north with a small satchel on his back and one mission in mind: To pay close attention to the land he crossed and the people he met.
What followed is an extraordinary 26-day journey through historic battlefields and cemeteries, over the Mason-Dixon line, past Quaker and Amish farms, along Valley Forge stream beds, atop a New Jersey trash mound, across New York Harbor, and finally, to his ultimate destination: the Ramble, where a tangle of pathways converges in Central Park. The journey travels deep into America's past and present, uncovering forgotten pockets and overlooked people. At a time of mounting disunity, the trip reveals the profound power of our shared ground.
By turns amusing, inspiring, and sublime, American Ramble offers an exquisite account of personal and national renewal--an indelible study of our country as we've never seen it before.
Supplemental enhancement PDF accompanies the audiobook.