Synopsis Purioris Theologiae / Synopsis of a Purer Theology: Latin Text and English Translation: Volume 1, Disputations 1-23 (Studies in Medieval and Reformation Traditions #187) (Hardcover)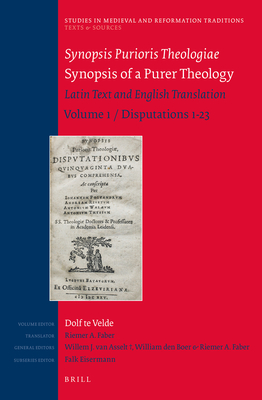 $165.00
Email or call for price.
Description
---
The Synopsis Purioris Theologiae (1625) gives an exhaustive yet concise presentation of Reformed theology as it was conceived in the first decades of the seventeenth century. The disputations of this first volume cover topics such as Scripture, doctrine of God, Trinity, creation, sin, Law and Gospel.
About the Author
---
R.T. (DOLF) TE VELDE (1974), Ph.D. (2010). Postdoctoral researcher at the Theological University Kampen. Author of The Doctrine of God in Reformed Orthodoxy, Karl Barth, and the Utrecht School (Brill, 2013).RIEMER A. FABER (1961), Ph.D. (1992). Associate Professor of Greek and Latin Philology, Department of Classical Studies, University of Waterloo, and Director of the Waterloo Institute for Hellenistic Studies.WILLEM J. VAN ASSELT (1946-2014), Ph.D. (1988), was retired honorary senior lecturer in Church History at Utrecht University in the Netherlands. Since 2008 he was Professor ofHistorical Theology at the Evangelische Theologische Faculteit in Leuven (Belgium).W.A. (WILLIAM) DEN BOER (1977), Ph.D. (2008). Postdoctoral researcher in Early Modern Reformed Theology at the Theological University Kampen, and Research Associate at the Jonathan Edwards Centre, University of the Free State, South Africa. Author of God's Twofold Love. The Theology of Jacob Arminius (1559-1609) (Vandenhoeck&Ruprecht, 2010).