Rough Sleepers: Dr. Jim O'Connell's urgent mission to bring healing to homeless people (Hardcover)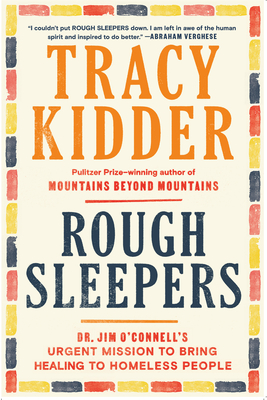 $30.00

Typically Ships in 1 - 2 Days
Staff Reviews
---
Pulitzer Prize winning author Tracy Kidder brilliantly and empathetically draws us into Dr. Jim O'Connell's life treating the homeless population in Boston — treating 11,000 of the city's homeless population each year. As he did with Paul Farmer in Mountains Beyond Mountains, Kidder shadows Dr. O'Connell off and on for five years as he tries to repair a broken system.  O'Connell CARES for his patients wherever he finds them as a dedicated physician with inspiring humanity amidst huge inequality. An inspirational book shedding light on the challenges of homelessness in America and the courage and unsung heroism of one man to ty to make lives at the margin a bit better.
— Carolyn
Description
---
NEW YORK TIMES BESTSELLER • The powerful story of an inspiring doctor who made a difference, by helping to create a program to care for Boston's homeless community—by the Pulitzer Prize–winning, New York Times bestselling author of Mountains Beyond Mountains

"I couldn't put Rough Sleepers down. I am left in awe of the human spirit and inspired to do better."—Abraham Verghese, author of Cutting for Stone
 
A BEST BOOK OF THE YEAR: NPR, BookPage, Chicago Public Library

Tracy Kidder has been described by The Baltimore Sun as "a master of the nonfiction narrative." In Rough Sleepers, Kidder tells the story of Dr. Jim O'Connell, a gifted man who invented a community of care for a city's unhoused population, including those who sleep on the streets—the "rough sleepers."

After Jim O'Connell graduated from Harvard Medical School and was nearing the end of his residency at Massachusetts General, the hospital's chief of medicine made a proposal: Would he defer a prestigious fellowship and spend a year helping to create an organization to bring health care to homeless citizens? That year turned into O'Connell's life's calling. Tracy Kidder spent five years following Dr. O'Connell and his colleagues as they work with thousands of homeless patients, some of whom we meet in this illuminating book. We travel with O'Connell as he navigates the city streets at night, offering medical care, socks, soup, empathy, humor, and friendship to some of the city's most endangered citizens. He emphasizes a style of medicine in which patients come first, joined with their providers in what he calls "a system of friends."

Much as he did with Paul Farmer in Mountains Beyond Mountains, Kidder explores how Jim O'Connell and a dedicated group of people have improved countless lives by facing and addressing one of American society's most difficult problems, instead of looking away.
About the Author
---
Tracy Kidder has won the Pulitzer Prize, the National Book Award, and the Robert F. Kennedy Award, among other literary prizes. His books include Mountains Beyond Mountains, Strength in What Remains, The Soul of a New Machine, House, Among Schoolchildren, Old Friends, Hometown, and A Truck Full of Money.
Praise For…
---
"Excellent . . . a detailed portrait of the lives of homeless Americans . . . [Kidder] asks us—correctly, I think—to consider that in a world of far too much cruelty, the compassionate person standing at the bottom of the cliff is part of the story too."—The Washington Post

"Excellent and immersive . . . sure-handed."—The Wall Street Journal

"To read Rough Sleepers is to confront not only the consequences of homelessness, but to wrestle with knowing that, as terrible as the problem is now, it would so be much worse if not for the sacrifices of people like O'Connell."—Los Angeles Times

"Wrenching."—The New York Times

"O'Connell is a fascinating protagonist . . . not only one of the good guys but a good guy who is vigorous, self-critical and even funny."—Minneapolis StarTribune

"[An] uneasy portrait of the United States . . . Kidder turns his meticulous but generous eye on Jim O'Connell."—Harper's Magazine

"A book that celebrates the great good that one man and his program have done in the face of grueling, unimaginable odds. Kidder has humanized a sprawling, thorny subject by focusing on people, not policy."—Portland Press Herald

 "Tracy Kidder has reported the hell out of important stories before, but never more finely and relentlessly. It's a story full of hard questions, a story with many heroes."—William Finnegan, author of Barbarian Days

"The estimable Tracy Kidder has found another unsung saint—this time not in the backcountry of Haiti or in genocide-ravaged Burundi but on the streets of a major American city. And once again, he has crafted a story that sheds light on a larger landscape of injustice."—Adam Hochschild, author of American Midnight

"Rough Sleepers is yet another enlightening reminder from Kidder that we should, and can, do better."—The Christian Science Monitor

"A searching, troubling look at the terrible actualities of homelessness."—Kirkus Reviews (starred review)

"With a straightforward scrutiny that reveals without judging, Pulitzer Prize winner Tracy Kidder offers a long, hard look at the lives of homeless people. . . . Intensely immersive."—BookPage (starred review)

"Keenly observed and fluidly written, this is a compassionate report from the front lines of one of America's most intractable social problems."—Publishers Weekly