Surf When You Can: Lessons in Life, Loyalty, and Leadership from a Maverick Navy Captain (Hardcover)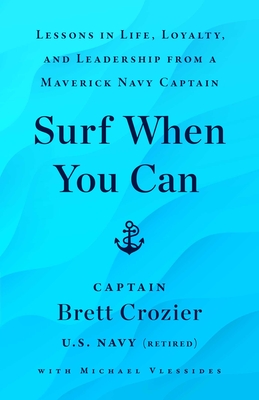 $28.00

Typically Ships in 1 - 2 Days
Description
---
Inspiring lessons learned from a lifetime of honor, service, and leadership from Captain Brett Crozier, the former commanding officer of the aircraft carrier USS Theodore Roosevelt and renowned Navy officer.

Amid one of the darkest times in American history, it was a moment that captured the attention of the nation. Brett Crozier, captain of the most powerful and prestigious aircraft carrier in the United States Navy, walked off his ship for the last time while thousands of his sailors saluted and chanted his name in admiration.

This remarkable moment occurred after Crozier made the decision to try to protect his sailors by pleading with his superiors for help when COVID-19 swept through the vessel. Two days later, he was relieved of command.

Now, Crozier reflects on his life, career, and commitment to doing the right thing in a book that celebrates the power of kindness, the importance of teamwork, and the value of standing up for what you believe in. Through a series of captivating stories set all around the world, Crozier takes us along on the grand adventures of his extraordinary career and introduces the incredible people he met along the way.

From his days as fighter pilot facing near-death experiences to commandeering suspected pirate vessels in the Persian Gulf, and of course, seizing any opportunity to enjoy one of his favorite hobbies—surfing—Crozier distills the lessons he has learned and the principles that have guided him, showing how you can apply them to your personal and professional life.
About the Author
---
Brett Crozier grew up in California, graduated from the United States Naval Academy, and embarked on a thirty-year career in the Navy, flying dozens of combat missions over Iraq and leading at the highest levels of operational command. He served as the commanding officer of a combat F/A-18 strike fighter squadron, the world's largest and most advanced communications ship, and ultimately the USS Theodore Roosevelt before retiring from the Navy in 2022. Surf When You Can is his first book.

Michael Vlessides is the bestselling author and coauthor of seven books, including The Ice Pilots and Will to Live. Despite inherent challenges with gravity and balance, he is slowly learning to appreciate the joys of surfing.
Praise For…
---
"Engaging and candid. . . even those without a naval operations background can appreciate [Crozier's] lessons on honor, leadership, and service."—Proceedings Magazine

"Crozier covers in frank perspective anecdotes…expounding on the leadership principles he learned, practiced, and implemented." —Seapower

"Surf When You Can is utterly compelling, authentic, and relatable – simply superb advice in life and leadership! Captain Brett Crozier shares everything he learned during a remarkable thirty-year Navy career. While Brett's experiences are entertaining and dramatic, he manages to tie them back to the simple rhythms of everyday life. He provides readers with advice that we can all use, whether or not we've ever hovered a helicopter, flown a F/A-18 fighter jet in combat, or commanded a nuclear-powered aircraft carrier." –Admiral James Stavridis, USN (Ret) 16th Supreme Allied Commander of NATO; Vice Chair, Global Affairs, The Carlyle Group; author of To Risk It All: Nine Conflicts and the Crucible of Decision