The Fourth Turning Is Here: What the Seasons of History Tell Us about How and When This Crisis Will End (Hardcover)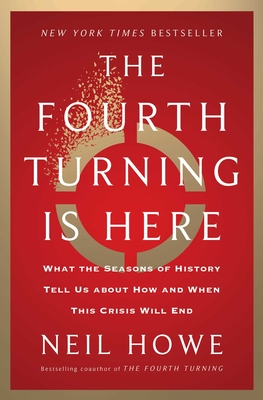 $32.50

Typically Ships in 1 - 2 Days
Description
---
The visionary behind the bestselling phenomenon The Fourth Turning looks once again to America's past to predict our future in this startling and hopeful prophecy for how our present era of civil unrest will resolve over the next ten years—and what our lives will look like once it has.

Twenty-five years ago, Neil Howe and the late William Strauss dazzled the world with a provocative new theory of American history. Looking back at the last 500 years, they'd uncovered a distinct pattern: modern history moves in cycles, each one lasting roughly eighty to one hundred years, the length of a long human life, with each cycle composed of four eras—or "turnings"—that always arrive in the same order and each last about twenty years. The last of these eras—the fourth turning—was always the most perilous, a period of civic upheaval and national mobilization as traumatic and transformative as the New Deal and World War II, the Civil War, or the American Revolution.

Now, right on schedule, our own fourth turning has arrived. And so Neil Howe has returned with an extraordinary new prediction. What we see all around us—the polarization, the growing threat of civil conflict and global war—will culminate by the early 2030s in a climax that poses great danger and yet also holds great promise, perhaps even bringing on America's next golden age. Every generation alive today will play a vital role in determining how this crisis is resolved, for good or ill.

Illuminating, sobering, yet ultimately empowering, The Fourth Turning Is Here takes you back into history and deep into the collective personality of each living generation to make sense of our current crisis, explore how all of us will be differently affected by the political, social, and economic challenges we'll face in the decade to come, and reveal how our country, our communities, and our families can best prepare to meet these challenges head-on.
About the Author
---
Neil Howe is a historian, economist, and demographer who writes and speaks frequently on generational change, American history, and long-term fiscal policy. He coauthored seven books with William Strauss, including Generations, 13th Gen, The Fourth Turning, and Millennials Rising. In 1991, Howe and Strauss coined the term "Millennial Generation." Howe's other books include On Borrowed Time (with Peter G. Peterson) and The Graying of the Great Powers (with Richard Jackson). He is managing director of demography for Hedgeye, an investment advisory firm. He is also a senior associate at the Center for Strategic and International Studies and at the Global Aging Institute. He grew up in California and holds graduate degrees in history and economics from Yale University. He lives with his family in Great Falls, Virginia.
Praise For…
---
"There is always profit in reading prophets…. The Fourth Turning Is Here is big history and bold futurology."
—The Wall Street Journal

"Driven by a deep sense that American democracy is at serious risk… [yet Howe predicts that] out of today's polarization and partisanship will come a new egalitarian, outward-facing, confident and unified America."
—Francis Fukuyama, The New York Times

"Arresting, mind-opening, and endlessly stimulating, The Fourth Turning Is Here is a monumental achievement. It's a big, complex, challenging book, daunting in its sweep and erudition, but well worth the effort."
—Amy Chua, Yale Law Professor and New York Times bestselling author of Political Tribes

"Riveting and revelatory... A road map to a future that's challenging yet also full of hope."
—Tony Robbins, New York Times bestselling author of Life Force

"Neil Howe is a genuis at mapping the present and future. This book explains how we arrived at today's era of crises, polarization, and conflicts. Fortunately, Howe also shows us the promised land that awaits on the other side."
—Jack A. Goldstone, Professor of Public Policy, George Mason Univeristy

"The most difficult thing in the world is to see history as we are living it, and no one does that with clearer eyes and a fuller heart than Neil Howe. The Fourth Turning is Here is a tour de force."
—Ben Hunt, creator of Epsilon Theory

"Neil Howe always sees things about America that other observers miss, harnessing a remarkable command of history and demography to help us think more clearly about current problems and summoning a remarkable imagination to help us envision the big changes ahead."
—Nicholas Eberstadt, political economist at the American Enterprise Institute

"A vitally important book."
—Michael J. Meese, PHD, brigadier general, US Army (retired)

"The riveting follow-up to The Fourth Turning…. All readers should enjoy this wild ride by an entertaining writer who seems to have read every relevant source. A fascinating work of global history and look to the future."
—Kirkus Reviews (starred review)

"Far-ranging [and] intriguing."
—Publishers Weekly