African Founders: How Enslaved People Expanded American Ideals (Hardcover)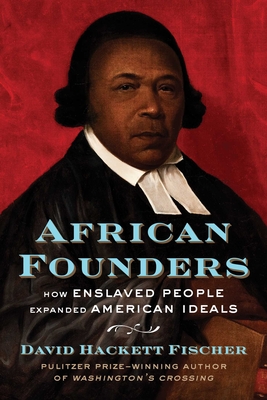 $40.00

Usually Ships in 1-5 Days
Description
---
In this sweeping, foundational work, Pulitzer Prize–winning historian David Hackett Fischer draws on extensive research to show how enslaved Africans and their descendants enlarged American ideas of freedom in varying ways in different regions of the early United States.

African Founders explores the little-known history of how enslaved people from different regions of Africa interacted with colonists of European origins to create new regional cultures in the colonial United States. The Africans brought with them linguistic skills, novel techniques of animal husbandry and farming, and generations-old ethical principles, among other attributes. This startling history reveals how much our country was shaped by these African influences in its early years, producing a new, distinctly American culture.

Drawing on decades of research, some of it in western Africa, Fischer recreates the diverse regional life that shaped the early American republic. He shows that there were varieties of slavery in America and varieties of new American culture, from Puritan New England to Dutch New York, Quaker Pennsylvania, cavalier Virginia, coastal Carolina, and Louisiana and Texas.

This landmark work of history will transform our understanding of America's origins.
About the Author
---
David Hackett Fischer is a University Professor and Warren Professor of History emeritus at Brandeis University in Waltham, Massachusetts. He is the author of numerous books, including the 2005 Pulitzer Prize winner Washington's Crossing and Champlain's Dream. In 2015, he received the Pritzker Literature Award for Lifetime Achievement in Military Writing.
Praise For…
---
"An almost unimaginable breadth of research, information and ambition. . . . Drawing on extensive recent work by historians on the demographics of the slave trade, Fischer traces the multiple African sources of the waves of importations from the 17th to the early 19th century, offering a rich portrait of the variety of cultures and places from which captives came. . . . He has been hailed as an accomplished historical storyteller who can capture a general reader, and those skills are evident here."
— Drew Gilpin Faust

"In a work of phenomenal scope and decades of research across three continents, Fischer delivers a masterpiece of cultural and demographic history. He gives deep grounding to the cliché of diversity in our past, and through a wealth of anecdotes and stories, shows that Africans and African Americans were the agents of the pluralism and syncretism that drove the development of early America. Every student of African American history will learn anew from this book, scholars and general readers alike. Rarely have American regions, the question of race, and the whole story of a society been captured so powerfully. It is a book to be mined for knowledge and savored with joy."
— David W. Blight, Pulitzer-Prize winning author of Frederick Douglass: Prophet of Freedom and Sterling Professor of History, Yale University

"A magnificent achievement and a fitting companion to Fischer's earlier masterpiece, Albion's Seed. Along with the regional influences of the original British settlers to the founding of America— the Puritans, Chesapeake cavaliers, Quakers, and Scotch-Irish— we now have the many contributions of the diverse peoples of Africa to the rich and complex tapestry of American culture. Based on an immense amount of research, this powerful work of history transcends all our current historiographical debates over slavery."
— Gordon Wood, Pulitzer Prize-winning author of Power and Liberty: Constitutionalism in the American Revolution and the Alva O. Way University Professor and Professor of History Emeritus, Brown University

"A monumental achievement in several senses of the term. Fischer shows how a gifted historian, at the peak of his powers, reframes the current debate over the role of slavery and race in American history. He does so by becoming a fully informed witness rather than a politically informed judge. Here the larger truth of our origins as a biracial society is not lost, but found, in the details."
— Joseph J. Ellis, Pulitzer Prize-winning author of The Cause: The American Revolution and Its Discontents

"Pulitzer Prize–winning historian Fischer delivers an exhaustive, multidimensional work about the waves of enslaved Africans brought forcibly to America and how their cultural elements interacted with White-controlled society to create a variety of unique American regions. . . . A tour de force of fascinating, multilayered research that adds significantly to the literature on the early republic."
— Kirkus Reviews (starred review)

"Enriched by Hackett's deep empathy, scrupulous research, and lucid prose, this milestone study casts American history in a new light."
— Publishers Weekly (starred review)

"Emphasizing regional variations and the agency of individuals, Pulitzer Prize–winning historian Fischer shows how Africans responded to racial slavery in ways that ultimately redefined and expanded American notions of freedom. . . . Informed by a mountain of quantitative and narrative sources and leavened by Fischer's travels on both sides of the Atlantic, this is a comprehensive demographic history with a powerful and important corrective thesis."
— Booklist (starred review)

"[Fischer] argues that historians should not focus solely on the tragic moral paradox of racism and slavery without also considering the positive, enduring impacts that enslaved and free Africans have had on the United States' founding ideals. This riveting, extensive study will prove invaluable to students of the history of slavery and African American history."
— Library Journal (starred review)