Guardians of the Valley: John Muir and the Friendship that Saved Yosemite (Hardcover)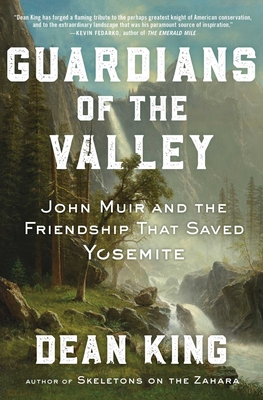 $30.00

Typically Ships in 1 - 2 Days
Description
---
The dramatic and uplifting story of legendary outdoorsman and conservationist John Muir's journey to become the man who saved Yosemite—from the author of the bestselling Skeletons on the Zahara: A True Story of Survival.

In June of 1889 in San Francisco, John Muir—iconic environmentalist, writer, and philosopher—meets face-to-face for the first time with his longtime editor Robert Underwood Johnson, an elegant and influential figure at The Century magazine. Before long, the pair, opposites in many ways, decide to venture to Yosemite Valley, the magnificent site where twenty years earlier, Muir experienced a personal and spiritual awakening that would set the course of the rest of his life.

Upon their arrival the men are confronted with a shocking vision, as predatory mining, tourism, and logging industries have plundered and defaced "the grandest of all the special temples of Nature." While Muir is consumed by grief, Johnson, a champion of society's most pressing debates via the pages of the nation's most prestigious magazine, decides that he and Muir must fight back. The pact they form marks a watershed moment, leading to the creation of Yosemite National Park, and launching an environmental battle that captivates the nation and ushers in the beginning of the American environmental movement.

Beautifully rendered, deeply researched, and inspiring, Guardians of the Valley is a moving story of friendship, the written word, and the transformative power of nature. It is also a timely and powerful "origin story" as the toweringly complex environmental challenges we face today become increasingly urgent.
About the Author
---
Dean King is an award-winning author of ten nonfiction books, including Skeletons on the Zahara, Unbound, Patrick O'Brian: A Life Revealed, and The Feud. His writing has appeared in Granta, Garden & Gun, National Geographic Adventure, Outside, New York magazine, and The New York Times. He is the chief storyteller in two History Channel documentaries and a producer of its series Hatfields & McCoys: White Lightning. An internationally known speaker, King has appeared on NPR's Talk of the Nation, ABC's World News Tonight, PBS's American Experience, BBC Radio, Arte TV France/Germany, and at TEDx. For more info, visit DeanHKing.com.
Praise For…
---
"Like an experienced trail guide, Mr. King takes time to linger over remarkable landscapes, recount revealing anecdotes, and take worthwhile detours. . . . Written with polish and feeling, Guardians of the Valley is a rich, enjoyable excursion into a seminal period in environmental history." —Wall Street Journal

"We see through this book the immense power of language to sway, the ability for selectively chosen words to convey awe and power, resentment and raw anger, to change the minds of lawmakers and tourists alike." —The New York Times Book Review

"Guardians of the Valley brings to life two compelling figures whose flaws are more apparent in our time than they were in theirs: a reminder that history is the final editor. It's also a poignant portrait of an era when mere words could change the world." —San Francisco Chronicle

"Captivating . . . Muir's adventures in an almost virginal Yosemite will entrance park lovers, outdoor enthusiasts, and California history buffs, the narrative swept along by Muir's shimmering, deftly excerpted prose." —LA Times

"Guardians of the Valley is propulsive, revelatory, and immensely readable. Summoning new research and fresh insights into the extraordinary character of John Muir, Dean King has written an absorbing paean to a deep friendship that rescued one of the planet's most magical landscapes from the jaws of Mammon." —Hampton Sides, #1 New York Times bestselling author of Blood and Thunder and In the Kingdom of Ice

"Dean King's account of Muir and Johnson's 'unlikely partnership' makes for an enjoyable joint biography." —Nature

"A library of books has been written about John Muir, many of which mention Robert Underwood Johnson, but not many adequately describe his long collaboration with Muir. In this book, Dean King remedies that oversight. . . . very worth reading." —National Parks Traveler

"This comprehensively researched and compellingly readable history offers an intimate yet sweeping portrait of an inspirational friendship that literally altered the American landscape and enshrined the modern-day conservation movement." —Booklist (starred review)

"Just when I thought we had heard all we could read and hear about the miraculous John Muir, this wonderful book on Muir's lifelong battle to save wild lands came into my hands. Deeply thoughtful, precisely researched, it is testimony to our ongoing obligation to protect the natural world. Muir is our inspiration and our teacher." —Gretel Ehrlich, author of The Solace of Open Spaces

"Writer Dean King, drawing extensively on the Muir-Johnson letters, tells the story of the work they did together and the admiration they bore for each other, crafting prose as absorbing as one of Muir's articles in the Century." —Natural History Magazine

"In Guardians of the Valley, Dean King has forged a flaming tribute to the perhaps greatest knight of American conservation, and to the extraordinary landscape that was his paramount source of inspiration." —Kevin Fedarko, author of The Emerald Mile