Everything/Nothing/Someone: A Memoir (Paperback)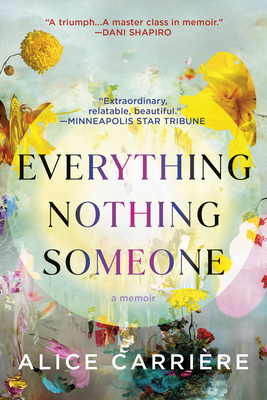 Staff Reviews
---
Everything/Nothing/Someone accurately depicts the non-linear trajectory of addressing one's mental health, relationships, and memory. Carriere intimately unravels her personal moments to convey the journey of getting better even when getting better doesn't feel like an option.
— Jesse
Join us for our event with author Alice Carrière,
in conversation with author Daphne Merkin, on Friday, September 1 at 5:00pm.
September 2023 Indie Next List
---
"Everything/Nothing/Someone depicts the non-linear trajectory of mental health, relationships, and memory. Carrière intimately unravels the personal to convey the journey of getting better, even when it doesn't feel like an option."
— Jesse Bartel, BookHampton, East Hampton, NY
Description
---
* New York Times Editor's Choice * Indie Next Pick * B&N Most Anticipated * Amazon Best of the Month * Kirkus 20 Most Anticipated Books of Fall * GMA End of Summer Reading Pick * PW Top 10 Memoir of Fall *

Compared to Girl, Interrupted and The Bell Jar, this celebrated memoir, one of the most notable literary debuts of 2023, tells of a young woman's coming-of-age in the bohemian '90s, as her adolescence gives way to a struggle with dissociative disorder.

Alice Carri re tells the story of her unconventional upbringing in Greenwich Village as the daughter of a remote mother, the renowned artist Jennifer Bartlett, and a charismatic father, European actor Mathieu Carri re. From an early age, Alice is forced to navigate her mother's recovered memories of ritualized sexual abuse, which she turns into art, and her father's confusing attentions. Her days are a mixture of privilege, neglect, loneliness, and danger--a child living in an adult's world, with little-to-no enforcement of boundaries or supervision.
When she enters adolescence, Alice begins to lose her grasp on reality, as a dissociative disorder erases her identity and overzealous doctors medicate her further away from herself. She inhabits various roles: as a patient in expensive psychiatric hospitals, a denizen of the downtown New York music scene, the ingenue in destructive encounters with older men--ricocheting from experience to experience until a medication-induced psychosis brings these personas crashing down. Eventually, she finds purpose in caring for her mother as she descends into dementia, in a love affair with a recovering addict who steadies her, in confronting her father whose words and actions splintered her, and in finding her voice as a writer.
With gallows humor and brutal honesty, Everything/Nothing/Someone explores what it means for our body and mind to belong to us wholly, irrevocably, and on our own terms. In pulsing, energetic prose that is both precise and probing, Alice manages to untangle the stories told to her by her parents, the American psychiatric complex, and her own broken mind to craft a unique and mesmerizing narrative of emergence and, finally, cure.