The Prince: A Novel (Hardcover)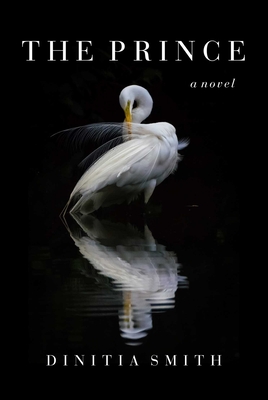 $26.99
Email or call for price.
Description
---
A modern retelling of The Golden Bowl by Henry James for fans of Sally Rooney and Kate Atkinson. 

From their grand mansion on the Upper East Side to their magical private island in Long Island Sound, everything points to the Woodford family as being perfect and idyllic. Why, then, is there such tension in the air?

Enter Federico, a penniless Italian prince who is about to marry Emily Woodford, the only child of the family's widowed patriarch, Henry. When Emily's beautiful, enigmatic childhood friend, Christina, appears on the scene as a guest at their wedding, trouble begins, for she and the Prince once had a passionate affair. Henry, however, is also enchanted by Christina. Now both Emily and her father must face a new reality, and learn whom they can, or cannot, trust.
About the Author
---
Dinitia Smith is the author of four previous novels, including The Illusionist, which was a New York Times Notable Book of the Year, and her short stories have been published in numerous magazines. For eleven years, she was a reporter at the New York Times where she wrote on literary topics and intellectual trends. Smith has won many awards for her writing, including fellowships from the National Endowment for the Arts, the Ingram Merrill Foundation, the MacDowell Colony, and the Bread Loaf Writers Conference. Her Emmy Award winning film, Passing Quietly Through, was chosen for the New York Film Festival, and shown at the Whitney Museum and the Museum of Modern Art. 
Praise For…
---
Praise for The Prince:

"Beautiful, elegant, and delicate at the sentence level, and wholly satisfying as a present-day story, this book's true delight is how, in both a literary and an emotional sense, the past informs the present, and the present informs the past—like a Mobius strip lovingly crafted by a Swiss watchmaker."—Lee Child, bestselling author and 2020 Booker Prize judge

"What a wonderful gift of a book, and what a treat to return to Henry James' radiant plot a century later to recover the magic, the genius, and beauty of those shadows that always hover between one person and another. Money could be the reason, deceit the villain, love the remedy, but it is always trust that pays the price in the end. A stunning and audacious retelling of The Golden Bowl."—André Aciman, author of Call Me By Your Name
 
"I loved this novel. The Prince gently but relentlessly furls us in the shimmering world of New York high society, conjuring Henry James in a brilliant way, introducing two friends of remarkable poise—Emily and Christina. Federico, the handsome and eponymous prince of the story, is poor, at least in cash. But he's rich in every other way, and Dinitia Smith draws these astonishing figures in the carpet of her imagination together in a tangle of yearning, whimsy, and emotional betrayal. The narrative moves with an enviable swiftness, and one is left wishing for more and more."—Jay Parini, author of The Last Station and Borges and Me

"With delicacy and flair, Dinitia Smith has succeeded in bringing the themes of Henry James' great novel to bear on twenty-first century lives and circumstances. The Prince is a sympathetic homage to James as well as being a gripping contemporary novel in its own right." —Brooke Allen, author and critic

​"This elegant and compelling novel vividly brings the world of Henry James into the present day. Dinitia Smith is a master storyteller and she has a wonderful story to tell." —Hilma Wolitzer, author of Today a Woman Went Mad in the Supermarket: Stories

"Smith reminds us, as James did, that the human heart is above all a place of terror, and pity, and dread."—Michael Gorra, author of Portrait of a Novel: Henry James and the Making of an American Masterpiece

"An elegant, eloquent, and fully entertaining novel by a writer with an impressive and reader engaging narrative driven storytelling style, The Prince by author Dinitia Smith is unabashedly recommended addition to community library Romance Fiction collections. It should be noted for the personal reading lists of all dedicated romance fans that The Prince is also readily available in a digital book format."—James A. Cox, Midwest Book Review

Praise for The Illusionist: 

"A skillfully written novel. And its greatest strength is the sensitivity with which Smith explores the complexities of love."—Edward Hower, The New York Times Book Review 

"Based loosely on a true hate crime in Humboldt, Nebraska, Smith's novel is a deeply disturbing and provocative study not only of the transsexual psyche but of the meaning of romantic love and its attendant powers of denial.—Beth E. Andersen, Library Journal
 
"Beautifully written. With this haunting book, Smith tells a wonderful tale and raises provocative questions."—Chicago Tribune 

"Mesmerizing, erotic suspense."—Stephen King

"A powerful novel about sexual desire and social disorder."—Alan Cheuse, All Things Considered 

"Smoke-and-mirrors prose that would dazzle Houdini . . . Smith has written a truly chilling winter's tale."—Detour magazine

"Dinitia Smith has taken this 'true' story and given its characters introspection and sad dignity."—Carolyn See, The Washington Post 

"The unfathomable mysteries of sexual identity and charisma permeate this dark, meditative tale of a transsexual's murder in upstate New York, by the author of The Hard Rain (1980) and Remember This (1989)—inspired by an actual incident in Nebraska . . . Smith's harsh but deadly accurate evocation of late-20th-century rural life almost upstages the violent drama in the foreground. Still, both prove memorable in this haunting exploration of a senseless and brutal murder."—Kirkus Reviews

"[Smith] nails the fading ambience of a town that has lost its reason for being. And she shows poignantly why . . . women will seek and sustain the illusion of love."—Carole Goldberg, The Hartford Courant 

"[A] quicksilver novel in which nothing, not even sexual identity, is unwavering . . . Smith has stripped away an even greater illusion: that human sexuality is straightforward and fathomable, normative and neat."—Maureen Corrigan, NPR Fresh Air 

"The Illusionist is a terrifying story of the ways good people can follow their most generous instincts straight into tragedy. Dinitia Smith's novel makes the bizarre plausible while it heightens the ordinary. I was caught in its web, beguiled from first page to last."—Rosellen Brown 

"A haunting, heartbreaking, utterly unforgettable novel. What an overwhelming accomplishment of the imagination!"—Larry Kramer

 
Praise for The Honeymoon:
 
"[This] appealing fictionalized biography of the revered British novelist George Eliot imagines the inner impulses and passions hidden under a cloak of 19th-century propriety . . . Smith's portrait of the author is nicely detailed, effectively locating her in time, place, and society."—Kirkus Reviews 

"Smith's portrait of Eliot's honeymoon with Cross . . . plausibly brings to life a puzzling period of her life. With the historical record lacking or shrouded, it is the perfect example of when fictional storytelling about an eminent person is warranted."—The Washington Post 

"Smith's enchanting account humanizes a figure renowned as much for her refutation of conventional female stereotypes and social limitations as for her genius for story and language. Eliot's personal life is reflected here as a series of deep insecurities regarding her appeal to men and the contributions her partners made to her work—Felix Holt, Middlemarch, Daniel Deronda—novels that endure as some of the most formative texts in English literature."—The New York Times Book Review 

"Smith's vivid exploration of the mind of author George Eliot, given name Marian Evans, and her late-in-life marriage to John Walter Cross raises the bar for historical fiction . . . Eliot fans will certainly inhale every page, but any historical-fiction readers will thoroughly relish Smith's tale of a remarkable woman and an unlikely Victorian love."—Booklist (STARRED REVIEW)

"A mesmerizing reimagination of George Eliot's accursed marriage."—Vanity Fair 

"A deep dive into love's turbulent waters, and into the mysterious heart of a person we thought we knew best."—Vogue
 
"…Smith…does well with invented incidents, such as a gondolier's aggressive sexual interest in Cross, and encounters with Dickens, Darwin, and the pioneering women's-rights activist Barbara Bodichon, with whom Eliot had a loyal friendship."—The New Yorker

"Smith has admirably fleshed out her subject, and her take should be welcomed by anyone interested in the life of this great writer--and in historical fiction generally."—Library Journal

"The intelligent and gripping tale weaves historical truths with the author's imagining of Eliot's inner voice in this enchanting look at her honeymoon in 1880 Venice."—The National Examiner

"One of the greatest challenges of fiction is to dare to step inside a great figure of the past, to relive their experiences, but also to fill in the gaps, to recreate their inner voice. Dinitia Smith sets out to do just this, and succeeds brilliantly, in her latest novel, The Honeymoon."—Historical Novels Review 

"Regardless, Smith's novel resolves Virginia Woolf's observation that 'to read George Eliot attentively is to become aware how little one knows about her.' The Honeymoon is nothing less than a séance: through the alchemy of biographical precision and fictional speculations, Smith conjures for readers a vivid, sensual, and endearing account of George Eliot's life."—Necessary Fiction

"If you never read George Eliot because you were slightly intimidated, The Honeymoon will reassure you. And if you're already a fan of Middlemarch, Adam Bede, The Mill on the Floss, and Daniel Deronda, then this book will fill your imagination like a new friend you can't believe you've lived so many years without. Smith's George Eliot is brilliant and bold—as you know she is—but Smith is equally daring and no less incisive. She is as worthy a successor to so formidable a writer as is Colm Tóibín to Henry James."—André Aciman, author of Out of Egypt: A Memoir

"In this affecting novel, Dinitia Smith brings a biographer's diligence and a novelist's imagination to bear upon the life of George Eliot. Smith hews closely to the factual contours of Eliot's last months—in particular, her marriage to a man twenty years her junior—while making provocative, speculative leaps into the mind and heart of the Victorian author. In so doing, Smith finds a way to consider some of the same questions that preoccupied Eliot in her own masterful fictions: What is the meaning and purpose of marriage? What are the challenges of imagining our way into the experience of those around us? And how might we—even with the best intentions in the world—fail in our comprehension of those closest to us?"—Rebecca Mead, author of My Life in Middlemarch 

"The brilliant George Eliot was one of the most fascinating women in history. Dinitia Smith sets the scene for her dramatic last act with depth and style."—Brooke Allen, critic and author

"The Honeymoon explores different kinds of love, and of the possibilities of redemption and happiness even in an imperfect union. Smith integrates historical truth with her own rich rendition of Eliot's inner voice, crafting a page-turner that is as intelligent as it is gripping."—The Book Table

"The Honeymoon is one of those novels that seems to unfold without words, perfectly imagined, like a dream. It's an eloquent story about George Eliot's late marriage to a much younger man; but this only touches the surface. Dinitia Smith digs into the interior life of genius here—exploring the greatest English novelist of the Victorian period. She brings that fine mind, and this astonishing age, to pulsing life. I love the pace of the narrative, the deep feeling that dwells here, deepening at every turn. This is wonderful fiction, taking us into the interior of human consciousness itself, into the heart of creation."—Jay Parini, author of The Last Station