All the Colors of New York (Hardcover)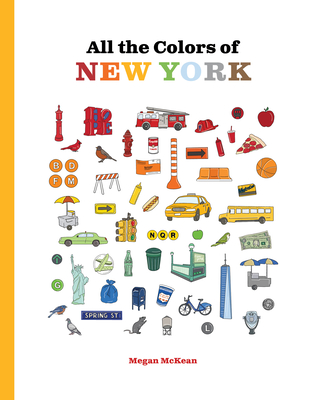 $14.95

Typically Ships in 1 - 2 Days
Description
---
Explore the familiar sights of New York City via its iconic colors in this illustrated tour of the city.

All the Colors of New York is an illustrated exploration of the iconic objects that define the city, through the colors that weave through its streets and define its landmarks.

Explore NYC in a brand-new way, with playful illustrations of New York's most iconic elements cataloged into color groupings—individually observe the components of city life and watch how they create a vibrant kaleidoscope of color when they all come together.

From pepperoni pizza red and subway seat orange to dill pickle green and Brooklyn brownstone brown, New York lovers can spot the whole rainbow through the pages of the book.
About the Author
---
Megan McKean is an Australian designer, illustrator, and author with permanently itchy feet—her work is focused primarily on travel and depicting colorful cities around the world. McKean's illustrations are characterized by bright color palettes, strong line work, and surprising details hidden within each piece, encouraging the viewer to go back for another look to see what they may have missed. Her best-selling children's books have been shortlisted for several awards. The 'Hello…!' series, published in Australia by Thames & Hudson, has been reprinted multiple times, and is available in English and Chinese language editions.