Birds of Paradise (Paperback)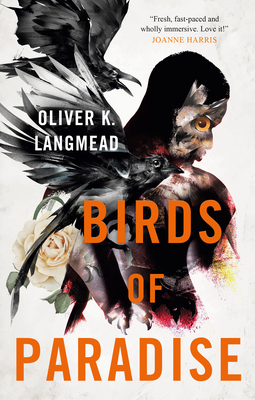 $15.95

On Our Shelves; Typically Ships in 1 - 2 Days
Description
---
American Gods meets The Chronicles of Narnia in this adult fantasy about the Biblical Adam recovering the lost pieces of the Garden of Eden.


Many millennia after the fall of Eden, Adam, the first man in creation, still walks the Earth – exhausted by the endless death and destruction, he is a shadow of his former hope and glory. And he is not the only one. The Garden was deconstructed, its pieces scattered across the world and its inhabitants condemned to live out immortal lives, hiding in plain sight from generations of mankind.

But now pieces of the Garden are turning up on the Earth. After centuries of loneliness, Adam, haunted by the golden time at the beginning of Creation, is determined to save the pieces of his long lost home. With the help of Eden's undying exiles, he must stop Eden becoming the plaything of mankind.

Adam journeys across America and the British Isles with Magpie, Owl, and other animals, gathering the scattered pieces of Paradise. As the country floods once more, Adam must risk it all to rescue his friends and his home – because rebuilding the Garden might be the key to rebuilding his life.


About the Author
---
Oliver K. Langmead is an author and a poet based in Glasgow. His novels include Birds of Paradise and Metronome, and his long-form poem, Dark Star, featured in the Barnes and Noble and the Guardian's Best Books of 2015. Oliver is currently a doctoral candidate at the University of Glasgow, where he is researching terraforming and ecological philosophy, and in late 2018 he undertook a writing residency at the European Space Agency's Astronaut Centre in Cologne, writing about astronauts and people who work with astronauts.
Praise For…
---
"Fresh, fast-paced and wholly immersive. Love it!"
Joanne Harris

"Astonishing. Riveting. Powerful mythic fiction." – Ellen Kushner, author of Swordspoint

"Birds of Paradise sits in a place between Plato and John Wick, a place which frankly I didn't know existed. And it is profoundly human too: whoever has ever known loss will resonate with it." – Francesco Dimitri, author of The Book of Hidden Things

"A beautifully written novel." – R. J. Barker, author of Age of Assassins

"Told with style and subtlety. A beautiful, thoughtful read." – Aliya Whiteley, author of The Beauty and The Loosening Skin

"A swooping, poetic novel that meditates on ecology and human's responsibility to our home" – Tor.com

"Meditative and elegant ... combines a high-flying adventure plot with the pacing and poetic flourishes of magical realism. ... Readers of Neil Gaiman and China Miéville will enjoy this lyrical, ecologically minded adventure." - Publishers Weekly

"A true masterpiece to rival—perhaps to even surpass—Gaiman's work. 5*" – Spoiler Rotten Reviews

"A beautifully lyrical book, with a perfect final line." – Girl Who Reads

"A poignant and heartwarming story about friendship and loyalty, beautifully written." – Books, Bones and Buffy

"A bold fable rooted deep in religious mythology that holds up a mirror to modern society for all our good and evil, touching on climate change and inclusion... all wrapped up in a beautiful, sad parable for the ages." – The Frumious Consortium

"A story like no other...[that] will stay with you long after reading it." – Book Referees

PRAISE FOR O.K. LANGMEAD

'I was thrilled by Oliver Langmead's Dark Star. A sci-fi noir detective story told in verse (think Blade Runner meets Dante's Inferno), it's one of the most original novels I've read in ages.'
– Sarah Waters, Guardian Best Books of 2015

"A deep and often beautiful foray into the nature of dreaming, with imaginative overtones of Gaiman and Borges."
— Lucy Hounsom, author of The Worldmaker trilogy 

"Dark Star does something that is both obvious and audacious: recycles an ancient narrative form to lend grandeur and gravitas to a gripping space fantasy. A saga for the galactic age."
– Stephanie Saulter, author of the ®Evolution trilogy

"Easily one of the most unusual novels of the year, Dark Star deserves more attention."
– Barnes & Noble

"Metronome is a remarkable novel, a crafty and brilliant interweaving of the real and the imaginary, the sleeping and the waking, the dark and the light. Oliver Langmead's previous book Dark Star made a very strong impression but this follow-up is even better."
– Starburst

"Metronome is an engaging high concept fantasy, incredibly readable and beautifully written."
– Fantasy Faction