Trojan Horse (Oberon Modern Plays) (Paperback)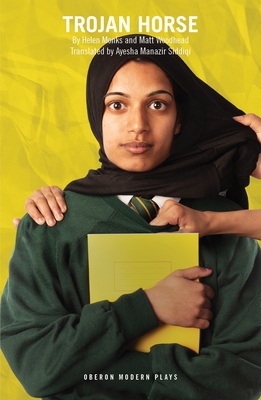 Description
---
A local story that hit the national press, the Trojan Horse scandal accused 'hardline' Muslim teachers and governors of plotting extremism in Birmingham schools. Adapted from the real-life testimonies of those at the heart of the UK Government's inquiry, critically acclaimed theatre-company LUNG investigates what really happened.
Originally developed with Leeds Playhouse, Amnesty International Freedom of Expression & Fringe First Award-winning production, Trojan Horse is the story of a community torn apart by racial division, 'British values' and the culture of Prevent.
About the Author
---
Making theatre with communities, by communities and for communities, LUNG is a national touring theatre company, developing innovative and politically driven work that broadens horizons and investigates modern Britain. Founded in Barnsley in 2012, LUNG also frequently performs and develops new work with The National Theatre Studio, Battersea Arts Centre and The Civic in Barnsley. LUNG is dedicated to producing new verbatim theatre as well as collaborating with new writers. Back home up north, LUNG also pursues an extensive education programme which specializes in bringing theatre into new communities from Bradford to Battersea. Helen Monks is a writer, actress and comedian, having starred in shows such as Raised by Wolves, Upstart Crow, and Inside No. 9. She is co-artistic director of LUNG. Matt Woodhead trained on the National Theatre Studio Directors Course and as a Trainee Director at Leeds Playhouse, and is co-artistic director of LUNG. Awards include: Director's Guild Award for Best Newcomer & John Fernald Award. Ayesha Manazir Siddiqi is a journalist and writer of short stories, essays and plays.