Footnotes: A Journey Round Britain in the Company of Great Writers (Paperback)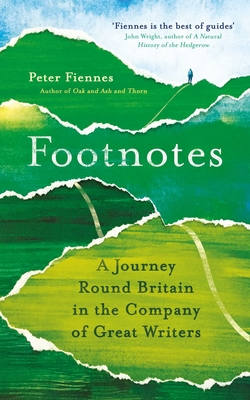 $16.95
Email or call for price.
Description
---
A Guardian Travel Book of the Year

Shortlisted for the Edward Stanford Travel Writing Awards

'The premise of this book is simple, or that is what it seemed when I started.'

Peter Fiennes follows in the footsteps of twelve inspirational writers, bringing modern Britain into focus by peering through the lens of the past.

The journey starts in Dorset, shaped by the childhood visions of Enid Blyton, and ends with Charles Dickens on the train that took him to his final resting place in Westminster Abbey.

From the wilds of Skye and Snowdon, to a big night out in Birmingham with J. B. Priestley and Beryl Bainbridge, Footnotes is a series of evocative biographies, a lyrical foray into the past, and a quest to understand Britain through the books, journals and diaries of some of our greatest writers.

And as Fiennes travels the country, and roams across the centuries, he wonders:

'Who are we? What do we want? They seemed like good questions to ask, in the company of some of our greatest writers, given these restless times.'
About the Author
---
Peter Fiennes is the author of the critically acclaimed Footnotes, Oak and Ash and Thorn, and To War with God. As the publisher for Time Out, he nurtured a lifelong obsession with old guidebooks, creating award-winning city guides, walking books and titles about Britain's countryside and seaside. He lives in south-west London.
Praise For…
---
'As enjoyable a guide to the relationship of writers to the landscape of Britain as one could hope to read: beautifully written, moving in its reflections, and often very funny.'
— Tom Holland

'This is not only a splendid, vigorous and amusing book, it is also important. On his travels with Enid Blyton, JB Priestley, Dickens and others, Peter Fiennes brilliantly assembles a vivid picture of that most elusive issue of the age, English identity.'
— Alistair Moffat, author of To the Island of Tides, A Journey to Lindisfarne

'Fiennes is a perceptive reader and a good-humoured guide and his book offers a superb commentary on the connections between lesser-known places and writers… Footnotes is a passionate, partisan call for readers to take action before the British countryside may be encountered only between the pages of a book.'
— TLS

'Always an amiable and engaging companion, Fiennes is gently teasing of macho travel writers… Fiennes is always self-deprecating and an acute observer… His occasional whimsical flourishes lighten the pudding, but his points hit home… Fiennes does something original in this highly enjoyable book where writers become more than ghostly companions and imaginary narrators – they remind us of what was once 'normal' and allow us to see how far we have fallen as well as travelled.'
— Elementum

'A funny and reassuring snapshot of our national identity.'
— Daily Mail

'Honing his easy-going and often witty style in this new book, Fiennes takes us on the journeys of famous writers… There's an infectious enthusiasm and self-deprecating authority to Fiennes's insights and he's a most agreeable companion… There will be many nature titles vying for a place on Christmas lists this year… This one should be towards the top'
— The Guardian

'Marvellously quotable...Fiennes' literary journey makes for a provocative and engaging book.'
— Financial Times

'Part travelogue, part biography, part meditation on British identity, Footnotes is altogether delightful, and Fiennes is a wise and genial travelling companion.'
— Gregory Norminton, author of The Devil's Highway

'I didn't really know that I'd been waiting for a more literary and stylish Bill Bryson to update Notes from a Small Island, but that's just what Footnotes is, and I loved it.'
— The Observer

'I think this book deserves the praise and is indeed "beautifully written, moving in its reflections and often very funny." [...] I particularly enjoyed the comic elements [...] But behind the self-effacing wit, there is a serious attempt to "bring modern Britain into focus" (as he says in the Preface) which he achieves with charm and humanity.'
— Perceptive Travel