Kayaking Manual: The essential guide to all kinds of kayaking (Haynes Manuals) (Paperback)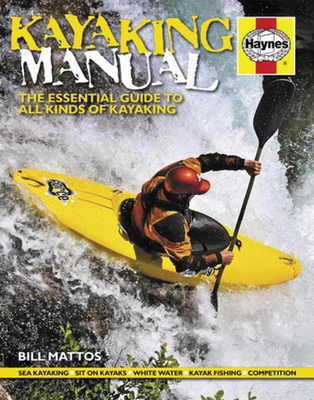 $19.95
Email or call for price.
Description
---
New in paperback. 
This is a modern illustrated 'how to' guide to kayaking, with authoritative information for beginners as well as the experienced paddler, all delivered with humor and enthusiasm. Presented in color with easy-to-follow, step-by-step photographic sequences and inspirational action images, the Kayaking Manual covers everything from flat water through to ocean paddling, white water and surfing. The book also explains the clothing and equipment required for every type of kayaking and, of course, the boats and paddles themselves, as well as weather, hydrodynamics, safety and rescue.
About the Author
---
Bill Mattos has written numerous books and hundreds of magazine articles, mostly on canoeing, kayaking, skiing and other adventure related matters. He is slowly fulfilling an ambition to paddle on every continent and in every ocean. He's competed in a wide variety of disciplines, including to World Championship level in Kayak Freestyle and Pilot Gig Racing, has won National and Eurocup events including several times the prestigious Bitches Rodeo in Wales, and has surfed the fearsome Teahupo'o wave in French Polynesia, which had never before been ridden by kayakers. Bill has worked as an engineer, rigger, designer, stuntman, actor, model, company director, photographer and videographer, all providing varied input and inspiration for his first love of writing. He currently lives in the French Alps where he can be found on the water almost every day, albeit often of the frozen variety. For more information check out billmattos.com