So Here I Am: Speeches by great women to empower and inspire (Hardcover)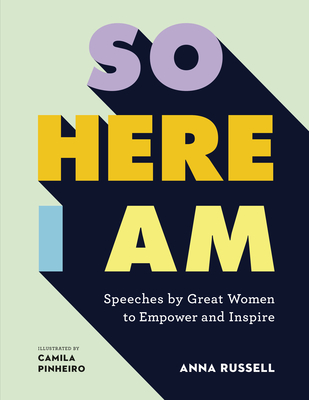 Description
---
This book is also now available in an edited and resized edition under the title Great Women's Speeches.
Discover the inspiring voices that have changed our world, and started a new conversation.   The first dedicated collection of seminal speeches by women from around the world, So Here I Am is about women at the forefront of change – within politics, science, human rights and media; discussing everything from free love, anti-war, scientific discoveries, race, gender and women's rights.

From Emmeline Pankhurst's 'Freedom or Death' speech and Marie Curie's trailblazing Nobel lecture, to Michelle Obama speaking on parenthood in politics and Black Lives Matter co-founder Alicia Garza's stirring ode to black women, the words collected here are empowering, engaging and inspiring. 

New Yorker writer Anna Russell introduces each speech with a concise bio of the remarkable woman who delivered it. Paired with powerful illustrations from Camila Pinheiro, the unique personality of each woman is brought to vivid life. A pink ribbon keeps your place in the book.

This anthology of outspoken women throughout history is essential reading for anyone who believes that change is not only possible, it is necessary. 

The women: Elizabeth I; Fanny Wright; Maria Stewart; Angelina Grimké; Sojourner Truth; Victoria Woodhull; Sarah Winnemucca; Elizabeth Cady Stanton; Mary Church Terrell; Ida B. Wells; Countess Markievicz; Marie Curie; Emmeline Pankhurst; Nellie McClung; Jutta Bojsen-Møller; Emma Goldman; Nancy Astor; Margaret Sanger; Virginia Woolf; Huda Sha'arawi; Funmilayo Ransome-Kuti; Eva Perón; Helen Keller; Eleanor Roosevelt; Shirley Chisholm; Ruth Bader Ginsburg; Sylvia Rivera; Simone Veil; Indira Gandhi; Margaret Thatcher; Ursula K. Le Guin; Barbara McClintock; Corazon C. Aquino; Naomi Wolf; Severn Cullis-Suzuki; Wilma Mankiller; Toni Morrison; Hillary Clinton; Wangari Maathai; J.K. Rowling; Angela Merkel; Sheryl Sandberg; Ellen Johnson Sirleaf; Asmaa Mahfouz; Manal al-Sharif; Julia Gillard; Malala Yousafzai; Emma Watson; Jane Goodall; Michelle Obama; Gloria Steinem; Beatrice Fihn; Alicia Garza; Maya Lin.
About the Author
---
Anna Russell is an editor and writer for "The Talk of the Town" section at The New Yorker. She was previously the arts and culture correspondent for The Wall Street Journal in London, and has worked under several other publications, including Condé Nast Traveler, Newsweek, and The New York Daily News. She studied English literature at New York University.
Camila Pinheiro is an illustrator, artist, and mother living in São Paulo, Brasil. She studied fashion and design in São Paulo, and worked for Dior and several agencies before opening her own studio. Her influences range from Magritte, Matisse and Mondrian to Alexander Girard.
Praise For…
---
Women say it best. Love these timeless, important messages for a daily inspirational read. This collection is full of surprises!—Alyssa Hollingsworth, #1 New York Times Bestselling Author, Susan Wiggs (BookBub)

'essential reading for any woman who has ever dared ask for more'—Creative Boom