A Fan's Guide to Baseball Analytics: Why WAR, WHIP, wOBA, and Other Advanced Sabermetrics Are Essential to Understanding Modern Baseball (Paperback)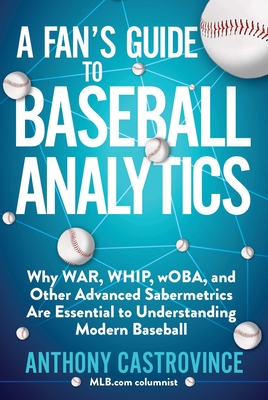 $16.99
Email or call for price.
Description
---
Broken up into sections (pitching, fielding, hitting), this authoritative yet fun and easy guide will help readers young and old fully understand and comprehend the statistics that are the present and future of our national pastime.
 
We all know what a .300 hitter looks like. The same with a 20-game winner. Those numbers are ingrained in our brains. But do they mean as much as we think? Do we feel the same way when we hear a batter has a .390 wOBA? How about a pitcher with a 1.2 WHIP? These statistics are the future of modern baseball, and no fan should be in the dark about how these metrics apply to the game.

In the last twenty years, an avalanche of analytics has taken over the way the game is played, managed, and assessed, but the statistics that drive the sport (metrics like wRC+, FIP, and WAR, just to name a few) read like alphabet soup to a large number of fans who still think batting average, RBIs, and wins are the best barometers for baseball players.

In A Fan's Guide to Baseball Analytics, MLB.com reporter and columnist Anthony Castrovince has taken on the role as explainer to help such fans understand why the old stats don't always add up. Readers will also learn where these modern stats came from, what they convey, and how to use them to evaluate players of the present, past, and future. 

For instance, what if we told you that when Joe DiMaggio had his famous 56-game hitting streak in 1941, helping him win the AL MVP, that there was, perhaps, someone more deserving? In fact, the great Ted Williams actually had a higher fWAR, bWAR, wRC+, OPS, OPS+, ISO, RC . . . well, you get the picture. So, streak or no streak, Williams should have been league MVP.

An introductory course on sabermetrics, A Fan's Guide to Baseball Analytics is an easily digestible resource that readers can keep turning back to when they see a modern metric referenced in today's baseball coverage.
About the Author
---
Anthony Castrovince is a reporter and columnist for MLB.com, where he has worked since 2004. He is also a national contributor for the MLB Network. A proud graduate of Ohio University, he lives in Cleveland with his wife and daughters.
 
Praise For…
---
"All of you old-school folks out there who don't like or understand baseball's advanced metrics . . . this is the book for you! Anthony Castrovince not only explains why the new numbers often are more meaningful than the old, but also does it in a conversational style that is both educational and entertaining. A Fan's Guide to Baseball Analytics offers the final word—the new numbers can be fun, and also help fans gain a deeper understanding of the game.
—Ken Rosenthal, MLB on FOX reporter, The Athletic senior writer, and MLB Network insider.

"Part math lesson, part history education—with plenty of dad jokes mixed in—Anthony Castrovince has done the impossible: he's authored a book about advanced baseball stats that not only serves as an Analytics 101 class, but does so in a way my own father would understand and enjoy. A must for any old-school (read: stubborn) fan afraid to dig in to the alphabet soup of wOBA, wRC+, and WAR."
—Mark Feinsand, MLB.com executive reporter and MLB Network insider
 
"Into the alphabet soup of BABIP, FIP, and xBA dives my favorite alphabet soup name of an author. If I would have had advanced analytics instructors like Anthony, maybe I wouldn't have snored through all those maddening math classes. Read this book and you will never again have to go to war with WAR, or fake understanding some other new-age stat. All of it will make sense, including this: Turns out, you can't spell "Castrovince" without ISO (Isolated Power)."
—Scott Miller, National MLB columnist for Bleacher Report and co-author of Ninety Percent Mental
 
"Anthony Castrovince has written the perfect book for baseball's information age. He hasn't just offered essential explanations of the new terminology and new ways to evaluate players. He has given every fan a roadmap for enjoying the sport they love even more. No fan should be without it."
—Richard Justice, MLB.com columnist

"Anthony Castrovince is one of my favorite baseball writers. He brings heart to everything he does, and that is especially useful here as he writes about baseball analytics. For people who come in fascinated by the advanced statistics, this book will be a fun ride as he explains the stories that go along with the numbers. But the real joy will be for those who come in wary of the wOBA world; Anthony in his own funny and engaging style shows that you don't have to be a math wizard for these stats to open up a whole new way to enjoy baseball."
—Joe Posnanski, The Athletic senior writer and author of The Life and Afterlife of Harry Houdini