Whaling Captains of Color: America's First Meritocracy (Hardcover)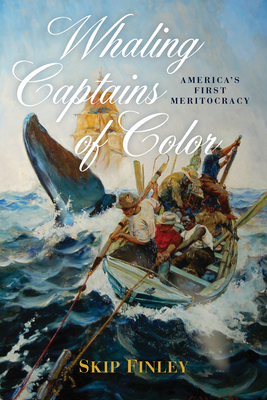 $44.00
Email or call for price.
Description
---
The history of whaling as an industry on this continent has been well-told in books, including some that have been bestsellers, but what hasn't been told is the story of whaling's leaders of color in an era when the only other option was slavery. Whaling was one of the first American industries to exhibit diversity. A man became a captain not because he was white or well connected, but because he knew how to kill a whale. Along the way, he could learn navigation and reading and writing. Whaling presented a tantalizing alternative to mainland life.
Working with archival records at whaling museums, in libraries, from private archives and interviews with people whose ancestors were whaling masters, Finley culls stories from the lives of over 50 black whaling captains to create a portrait of what life was like for these leaders of color on the high seas. Each time a ship spotted a whale, a group often including the captain would jump into a small boat, row to the whale, and attack it, at times with the captain delivering the killing blow. The first, second, or third mate and boat steerer could eventually have opportunities to move into increasingly responsible roles. Finley explains how this skills-based system propelled captains of color to the helm. The book concludes as facts and factions conspire to kill the industry, including wars, weather, bad management, poor judgment, disease, obsolescence, and a non-renewable natural resource. Ironically, the end of the Civil War allowed the African Americans who were captains to exit the difficult and dangerous occupation--and make room for the Cape Verdean who picked up the mantle, literally to the end of the industry.