Street Photography: Pocket Guide: Camera Setup, Shooting Approaches and Techniques, Street Portraits, Projects, and More (Spiral)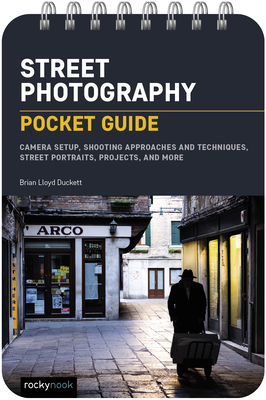 $14.95

Usually Ships in 1-5 Days
Description
---
Quickly learn the street photography fundamentals you need to know so you can capture great photos
Designed to help you conquer the philosophy and fundamental techniques of street photography, this handy and ultra-portable quick reference Pocket Guide helps you get the shot when you're out on the streets. Follow along with documentary and street photographer Brian Lloyd Duckett, and you will:
- Learn the three main approaches to street photography
- Set up your camera for street photography
- Develop a "street mindset" and build your confidence
- Use the most effective shooting techniques
- Find ideal locations for your photography
- Understand what it takes to make a successful street portrait
- Learn about the importance of shooting projects
About the Author
---
Brian Lloyd Duckett is a professional documentary and street photographer, and he runs the London-based StreetSnappers organisation. He runs street and documentary photography workshops around the world and is a brand ambassador for Fujifilm.Brian lectures extensively at camera clubs and photography societies and is a Visiting Lecturer on photography degree courses. His passion for educating street photographers continues through his YouTube channel (@streetsnappers) and his street photography podcast (The Streetcast). He also writes about street and documentary photography for travel, lifestyle, and photographic magazines.You can see Brian's personal work at www.brianduckett.com and the StreetSnappers organisation at www.streetsnappers.com.