The Ball in the Air: A Golfing Adventure (Hardcover)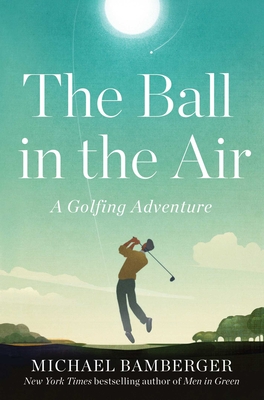 $30.00

Typically Ships in 1 - 2 Days
Description
---
After a lifetime of writing about the professional sport, Michael Bamberger, "the poet laureate of golf" (GOLF magazine), delivers an exhilarating love letter to the amateur game as it's played—and lived—by the rest of us.

Over Michael Bamberger's celebrated writing career, he has written a handful of books and hundreds of Sports Illustrated stories about professional golf and those who play it—that is, the .001 percent. Now, Bamberger trains his eye on the rest of us. In his most personal book yet, Bamberger takes the lid off a game that is both quasi-religious and a nonstop party, posing an age-old question that is answered over its pages: Why does the game cast such a spell on us?

Here is the story of modern golf that is not on TV. This is our story, we who pay to play, who can't wait to get another crack at the game, even when golf doesn't love us back. And just as every round is an adventure, every life in golf is, too. The golfers Michael Bamberger introduces will leave you inspired and moved. You'll meet Sam Reeves, a golf-loving US Army soldier who becomes captivated by a fellow soldier, Cliff Harrington, a gifted Black golfer who's cruelly robbed of the chance to show the world all he can do. You'll meet Ryan French, who plays on a college golf team out of Animal House. You'll get to know Pratima Sherpa, who grew up in a maintenance shed at the Royal Nepal Golf Club in Kathmandu and took up the game with a stick whittled by her father.

The Ball in the Air is reported with Bamberger's you-are-there intimacy and captures the sweep of time. Pratima finds her way from Nepal to a university golf team in Southern California. Ryan and his father caddie in minor-league events while sleeping in tents, a preamble to Ryan's becoming the godfather of the popular Monday Qualifier Twitter feed. Sam Reeves, born in rural Georgia during the Depression, becomes a cotton king, the oldest amateur to make the cut at the Pebble Beach National Pro-Am, and the ultimate man for all seasons.

And there are Bamberger sightings, too, as he finds his own path in the game. You'll make joyful side trips with the author, who's spent more than forty years exploring golfers and golf, a way of life that captivates him down to his bones. You'll visit the golf course at Balmoral Castle in Scotland and compete with Bamberger and other purists at the National Hickory Championship in rural Pennsylvania. At St. Andrews, you'll get up close and personal with Lee Trevino, one of the few professionals in these pages, because Trevino, when you really get to the core of the man, is one of us. He can't get enough of it.

The Ball in the Air is Bamberger's valentine to golf. The modern world, obsessed with fame and fortune, has infiltrated professional golf—but it hasn't infiltrated golf. Bamberger is here to highlight the distinction and to celebrate the game and all who play it.
About the Author
---
Michael Bamberger was born in Patchogue, New York, in 1960. After graduating from the University of Pennsylvania in 1982, he spent a more than a decade as a newspaper reporter, followed by twenty-two years at Sports Illustrated. He has written nine books, including the New York Times bestseller Men in Green, The Ball in the Air, The Second Life of Tiger Woods, To the Linksland, as well as a play, Bart & Fay. His work has appeared in The Best American Sports Writing and other anthologies. In 2022, Bamberger received the Memorial Golf Journalism Award at Jack Nicklaus's annual tournament.
Praise For…
---
"I just finished this one from Michael Bamberger in a day, and it's a work of art. My love for golf comes from the challenge of playing as an amateur, not from winning tournaments or collecting prize money. 99% of you have this same relationship with the game. That's who this book is for."
—Tom Brady on Instagram

"An excellent golf book that captured me because it's about three average people—plus Bamberger—who are passionate about the sport and the purity of golf. . . . Bamberger writes artfully. That's part of the joy of this book. . . . What a good read."
—Peter King, NBC Sports

"The Ball in the Air tells the golf-related tales of three decidedly non-high-profile figures . . . Linking these tales is Mr. Bamberger's own story and his conviction that golf has much to teach when we open ourselves to the game's deepest, most subtle nature—the unexpected emotions, the 'odd and beautiful playing fields,' the intimate bonds that form among both friends and strangers. The pleasure of The Ball in the Air is like that of an ordinary golf round. . . . Mr. Bamberger's abiding love is for golf as it is experienced by everyday people."
—John Paul Newport, Wall Street Journal

"I've devoured most everything from award-winning golf writer Michael Bamberger, including his previous seven books, and his latest offering may be his finest yet. The Ball in the Air is an engrossing ode to the game of golf. . . . A true feast for any golf lover."
—Les Schupak, The Met Golfer

"It's a joy to read Michael Bamberger's latest book, maybe because it was such an obvious joy for Bamberger to write it. . . . All his previous golf writings, which are flavored by his love and respect for the game, led him to this place. It's the book he was meant to write."
—David Westin, The Augusta Chronicle

"The Ball in the Air is not your typical golf book. It doesn't revolve around tour players, exotic trips to majestic courses, or the majors. Instead, Michael Bamberger introduces us to three individuals who love playing golf for the joy it brings them. . . . You don't need to love the sport to be drawn to the characters who come to life on the pages of this enthralling book."
—Bookreporter

"Bamberger knits together his subjects' golfing and life stories, showing how each found the game and their accomplishments and adventures. . . . Sparkling with details . . . The stories are heartwarming and affecting."
—Kirkus Reviews

"As beautiful as golf is on the outside, it's even better on the inside. In The Ball in the Air, Michael Bamberger intimately weaves four profoundly personal journeys with mesmerizing skill and leaves us with a deeper understanding of our own."
—Jaime Diaz, Golf Channel commentator and #1 New York Times bestselling coauthor (with Hank Haney) of The Big Miss

PRAISE FOR OTHER BOOKS BY MICHAEL BAMBERGER

* The Second Life of Tiger Woods *

"Reading The Second Life of Tiger Woods is like playing a great golf course without prior knowledge of the holes that lie ahead. You know they're going to be good, and in the end, they add up to something special. To the extent that it's possible to know what's in Tiger's mind, Bamberger delivers. . . . A terrific book."
—Gary D'Amato, Wisconsin Golf

"A fantastic book . . . Bamberger takes a look at Woods' recent years with a discerning but empathetic eye and teaches us new ways to see his most recent journey."
—Dylan Dethier, Golf.com

"This may be the most insightful and evenhanded book written yet about one of the signature athletes of the last twenty-five years."
—Booklist (starred review)

* Men in Green *

"Maybe the best golf book I've ever read."
—Bill Reynolds, Providence Journal

"I wish Men in Green were about four hundred pages longer than it is."
—Jeffrey Toobin, New York Times Book Review

* The Swinger *

"An entertaining, revealing, thought-provoking, and cautionary tale . . . It provides invaluable insight into the life and times of Woods."
—Bill Pennington, The New York Times

* To The Linksland *

"One of the best golf travel books ever written . . . The book reminds us that the game of golf has many treasures yet to be discovered."
—Michael Murphy, author of Golf in the Kingdom

* This Golfing Life *

"The ultimate insider's view [from] one of the modern game's brightest observers and finest writers."
—Geoff Shackelford, Golf Observer