Halo: Outcasts (Paperback)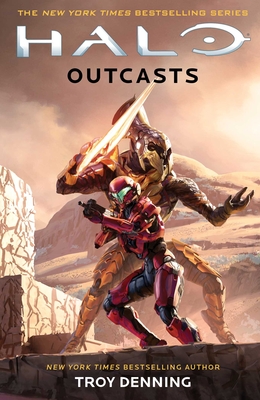 $17.99

Usually Ships in 1-5 Days
Other Books in Series
This is book number 31 in the Halo series.
Staff Reviews
---
I think one of my favorite elements Denning provides with this novel is the uneasiness of the alliances in this post-Covenant War era. It feels like every chapter could end in bloodshed due to miscommunication but the cool heads of The Arbiter and Spartan Vale prevail. But that tension is felt and it's important that not everyone is exactly friends — they just have a common goal. Even humans within the human groups have their own motives that they act, creating worse situations. I appreciate the lack of black and white when navigating around the morals and values of all parties involved. I mean, even the lunatic Atriox is admirable in his way and can we blame him after what Cortana did to his people?
— Jesse
Description
---
An original novel set in the Halo universe—based on the New York Times bestselling video game series!

2559. Formerly one of the Covenant's greatest and most fearsome warriors, Arbiter Thel 'Vadam is now allied with his former human enemies while deeply entrenched in leading the Sangheili people to a new era of unification. But his aspirations are under constant threat, whether by the dangerous, warring factions of rival Sangheili keeps, or the relentless shadow of oppression spread by the renegade artificial intelligence Cortana​​.

An opportunity to break Cortana's chains has suddenly presented itself through the rumored existence of an ancient artifact located on the hostile world of Netherop. Spartan Olympia Vale, trained with the skills to live and thrive among the Sangheili, also recognizes this alien prize as an essential means to aid humanity in reaching the same goal of freedom. But behind the scenes, both 'Vadam and Vale are being manipulated by a mysterious figure with their own agenda. And to make matters worse, all involved are unknowingly placing themselves at perilous odds with forces beyond their comprehension…
About the Author
---
Troy Denning is the New York Times bestselling author of more than forty novels, including Halo: Divine Wind, Halo: Shadows of Reach, Halo: Oblivion, Halo: Silent Storm, Halo: Retribution, Halo: Last Light, a dozen Star Wars novels, the Dark Sun: Prism Pentad series, and many bestselling Forgotten Realms novels. A former game designer and editor, he lives in western Wisconsin.