Amagansett '84 (Paperback)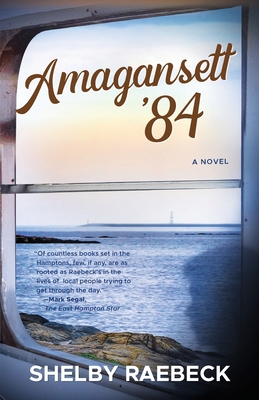 $13.95

Typically Ships in 1 - 2 Days
A coming-of-age tale set on the East End of Raebeck's childhood, in which the teenaged narrator deals with family strife and social conflicts on Long Island's still undeveloped East End, AMAGANSETT '84 has been described in early reviews as "heartbreakingly poignant" (Kirkus), "quietly mesmerizing... up to its breathless conclusion" (Craig James, IndieReader), and as "a moving story... with terse, ear-perfect dialogue and beautifully rhythmic landscape descriptions" (Joan Baum, The Southampton Press).
ABOUT THE AUTHOR
As numerous critics have noted, Shelby Raebeck is that rare East End writer that writes about the off-season, the underbelly, the year-rounders who grind out their daily lives. After growing up in Amagansett, Raebeck left Long Island to study and teach at schools and colleges in Florida, Virginia, Maryland, Louisiana, Utah, and California, before returning to the East End with his family to settle in Springs.
Raebeck is author of the critically acclaimed LOUSE POINT: STORIES FROM THE EAST END, which received a Starred Review from Kirkus Reviews, the one-person play, FREMONT'S FAREWELL, and three novels — the award-winning SPARROW BEACH, WONDERLESS, and the newly released, AMAGANSETT '84.