The Young Man (Paperback)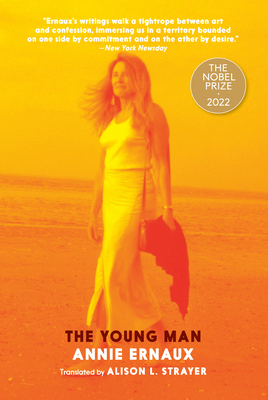 $13.95

Typically Ships in 1 - 2 Days
Description
---
WINNER OF THE 2022 NOBEL PRIZE IN LITERATURE

Annie Ernaux's most recent book, dazzling and breathtaking, published in France in 2022, is about her affair with a man 30 years her junior.

"A sublime book." —Elle

"Once again the work of the writer Annie Ernaux appears as both a rigorous study of life and an experiment. These fragments of living, however evanescent, are precious, irreplaceable, like a skin that never fades." —Caroline Montpetit in Le Devoir

The Young Man is Annie Ernaux's account of her passionate love affair with A., a man some 30 years younger, when she was in her fifties. The relationship pulls her back to memories of her own youth and at the same time leaves her feeling ageless, outside of time— together with a sense that she is living her life backwards.

Amidst talk of having a child together, she feels time running its course, and menopause approaching. The Young Man recalls Ernaux as the "scandalous girl" she once was, but is composed with the mastery and the self-assurance she has achieved across decades of writing. It was first published in France in 2022.
About the Author
---
ANNIE ERNAUX, winner of the 2022 Nobel Prize in Literature, is the author of some twenty works of fiction and memoir, winner of the Prix Renaudot for A Man's Place, and of the Marguerite Yourcenar Prize for her body of work. She is also the winner of the International Strega Prize and the French-American Translation Prize and shortlisted for the Man Booker International Prize for The Years. In 2019 she was the recipient of the Prix Formentor. She is now considered to be France's most important literary voice, and is the first French woman to win the Nobel Prize in Literature.

ALISON L. STRAYER is a Canadian writer and translator. Her work has been shortlisted for the Governor General's Award for Literature and for Translation, the Grand Prix du livre de Montreal, and the Prix litteraire France-Quebec. She lives in Paris.
Praise For…
---
"A sublime book." —Elle

"That Ernaux can do so much — The Young Man tackles love, aging, desire, loss, misogyny, class and death — in such a small space is clearly the hallmark of a writer who has honed her craft to be razor sharp. It cuts to the bone." —Jessica Ferri, The Washington Post

"The major pleasure in reading this book—and it is a major pleasure—comes not so much from gasping over sensual details but from savoring Ernaux's sentences and the searing clarity of her thinking. It isn't just that she avoids sentimentality, though she does that, too. It's that the author can (and does) analyze all kinds of intersecting threads—aging, class, desire, regret—without a sense of shame or an impulse to sugarcoat any of the truths she uncovered during her time with A. . . . A crucial addition to Ernaux's oeuvre." —Kirkus Reviews, starred review

"A romance on its face, The Young Man gathers singularity and texture as an account of manifold transits: between youth and age, living and dying, in and out of passion, passing through menopause, and from Ernaux's impoverished beginnings through her ascension into the literary bourgeoisie." —Bookforum

"Gripping. . . . Nobel prize winning writer Annie Ernaux's recounts her fervent love affair with A., a man 30 years her junior." —Nylon

"In the sensitive hands of Annie Ernaux and her translator Alison L. Strayer, a slim and seemingly salacious story of a woman's love affair with a much younger man transforms into a profound exploration of power and domination, of reliving through writing, and of how passion elevates us to a kind of agelessness." —Words Without Borders

"A meditation on a dalliance that made [French author and 2022 Nobel Prize winner Annie Ernaux] think differently about love, time, and aging." —TIME magazine, Most Anticipated Books for Fall 2023

"The Young Man is more than the story of an affair. It's an intense re-examination of the past. . . . [Ernaux's] memoirs ask us to cultivate different expectations for narrative, and perhaps for life: to seek not novelty but rather the familiar, which surprises in its own way." —Maggie Doherty, The New Republic

"Prevalent in [Ernaux's] work are acts of remembering—how memory is not a distant, unreachable thing but something that stalks the present. Reliving those wild days with a younger man triggers a meditation on age and mortality."—The Guardian

"In lean prose, [Ernaux] moves from description to scrutiny with accuracy. She writes the way the body recalibrates the past. . . .  It is a story that compels us to revisit our own past, and to wonder if we share Ernaux's unflinching clarity about recognizing the dial of life."—World Literature Today

"Nobel Prize winner Ernaux recounts her yearlong affair with a man three decades her junior in this slim yet stunning memoir. . . . Remarkably clear-eyed about the relationship's pitfalls and pleasures, Ernaux shares, in fragments, the ways it provoked within her both a sense of righteousness. . . and sadness. . . . The result is a poignant and essential addition to Ernaux's oeuvre." —Publishers Weekly, starred review

"Once again the work of the writer Annie Ernaux appears as both a rigorous study of life and an experiment. These fragments of living, however evanescent, are precious, irreplaceable, like a skin that never fades." —Caroline Montpetit, Le Devoir

"[Annie Ernaux]—ever attentive to the dynamics of memory, the dissolution of sex, and the process of writing—knows that this timeless quality isn't, and can't be, quite the same as seeing time flow in reverse." —Asymptote Journal