Off the Edge: Flat Earthers, Conspiracy Culture, and Why People Will Believe Anything (Hardcover)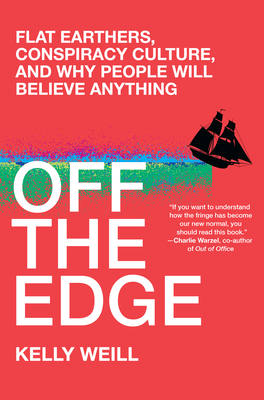 $27.95

Usually Ships in 1-5 Days
Staff Reviews
---
An in-depth look at one of the most popular conspiracy theories of all time and its birth, almost demise, and reinvention. The creation of YouTube and the unchecked information available led to people falling for absurdly incorrect views of our place in the universe. The rise of far right extremism and QAnon melded with Flat Earthers and created a dangerous concoction of misinformation. Weill is fascinated and pretty respectful of Flat Earthers even if completely disagreeing with them. A sometimes shocking read but engaging and, dare I say it, informative.  
— Jesse
Description
---
"A deep dive into the world of Flat Earth conspiracy theorists . . . that brilliantly reveals how people fall into illogical beliefs, reject reason, destroy relationships, and connect with a broad range of conspiracy theories in the social media age. Beautiful, probing, and often empathetic . . . An insightful, human look at what fuels conspiracy theories." —Science

Since 2015, there has been a spectacular boom in a centuries-old delusion: that the earth is flat. More and more people believe that we all live on a pancake-shaped planet, capped by a solid dome and ringed by an impossible wall of ice.

How? Why?

In Off the Edge, journalist Kelly Weill draws a direct line from today's conspiratorial moment, brimming not just with Flat Earthers but also anti-vaxxers and QAnon followers, back to the early days of Flat Earth theory in the 1830s. We learn the natural impulses behind these beliefs: when faced with a complicated world out of our control, humans have always sought patterns to explain the inexplicable. This psychology doesn't change. But with the dawn of the twenty-first century, something else has shifted. Powered by Facebook and YouTube algorithms, the Flat Earth movement is growing.

At once a definitive history of the movement and an essential look at its unbelievable present, Off the Edge introduces us to a cast of larger-than-life characters. We meet historical figures like the nineteenth-century grifter who first popularized the theory, as well as the many modern-day Flat Earthers Weill herself gets to know, from moms on vacation to determined creationists to neo-Nazi rappers. We discover what, and who, converts people to Flat Earth belief, and what happens inside the rabbit hole. And we even meet a man determined to fly into space in a homemade rocket-powered balloon—whose tragic death is as senseless and absurd as the theory he sets out to prove.

In this incisive and powerful story about belief, Kelly Weill explores how we arrived at this moment of polarized realities and explains what needs to happen so that we might all return to the same spinning globe.
About the Author
---
Kelly Weill is a journalist at the Daily Beast, where she covers extremism, disinformation, and the internet. As a leading media voice on the role of online conspiracy theories in current affairs, she has discussed Flat Earth and other digital fringes on ABC's Nightline, CNN, Al Jazeera, and other national and international news outlets. She lives in New York. 
 
Praise For…
---
"A deep dive into the world of flat Earth conspiracy theorists . . . that brilliantly reveals how people fall into illogical beliefs, reject reason, destroy relationships, and connect with a broad range of conspiracy theories in the social media age. Beautiful, probing, and often empathetic . . . An insightful, human look at what fuels conspiracy theories."
—Science

"This provocative book is sure to inspire debate about conspiracy theories as well as how citizens of a fractured world can learn to overcome their fear of radical planetary change. A timely and disturbing study of flawed, dangerous thinking."
—Kirkus Reviews

"Insightful and surprisingly empathetic . . . an illuminating take on a much scrutinized subject."
—Publishers Weekly

"An illuminating study that locates the common human psychological impulses behind conspiracy culture."
—Library Journal

"In lively prose, Weill untangles the most complicated webs, revealing the real people who believe the unbelievable."
—Booklist

"Even-handed… perfectly encapsulates disturbing implications of conspiracy theorists and their beliefs."
—Minneapolis Star-Tribune

"An inquisitive, empathetic, deeply reported, and disturbingly funny tour through the furthest reaches of the most fringe possible conspiracy community. While Weill's subjects frequently risk falling off the edge of their own self-created map of the known universe, she follows them deftly to the brink, showing what their delusional explorations can teach us about belief, community, and the long history of pseudoscience around (sorry!) the world."
—Anna Merlan, author of Republic of Lies

"In this delightful deep dive into flat earth culture past and present, taking in YouTube recommendation algorithms, amateur rocketry, and a rat's nest of conspiracy theories, Kelly Weill explains why, after several millennia of setbacks, the idea that the earth is flat is burgeoning once again."
—Michael Strevens, author of The Knowledge Machine

"Weill's elegant writing, informed by both historical research and deep-delving reporting, offers a complex and vivid portrait of a conspiracy community that serves as a metonym for this moment—when so many of us are in dispute about the very nature of reality. An essential and enjoyable read." 
—Talia Lavin, author of Culture Warlords
 
"Kelly Weill is one of the best observers of the fringes of modern American life, making her the perfect chronicler of the Flat Earth movement. Her deep reporting and gift for storytelling make Off The Edge a gripping read— but what sets Weill apart is her ability to cover her subjects with great empathy, all without losing sight of the enormous damage and personal consequences of their actions."
—Charlie Warzel, co-authorof Out of Office