Deep in the Woods: The 1935 Kidnapping of Nine-Year-Old George Weyerhaeuser, Heir to America's Mightiest Timber Dynasty (Paperback)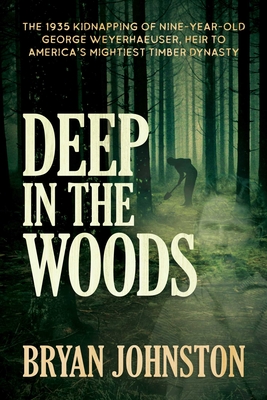 $18.99

Usually Ships in 1-5 Days
Description
---
It is a crime even the FBI must have considered fantastic and absurd.

In 1935, nine-year-old George Weyerhaeuser, heir to one of the wealthiest families in America, is snatched off the streets two blocks from his home. The boy is kept manacled in a pit, chained to a tree, and locked in a closet. The perps—a career bank robber, a petty thief, and his nineteen-year-old never-been-in-trouble Mormon wife—quickly become the targets of the biggest manhunt in Northwest history. The caper plays out like a Hollywood thriller with countless twists and improbable developments. Perhaps the most astonishing thing of all, though, is how it all ends.
About the Author
---
Bryan Johnston counted network affiliate television as his employer for twenty-five years, earning eleven regional Emmy awards as a writer and producer. He is the author of several Northwest-centric books and has written for numerous magazines and websites. He is currently the Creative Director for a Seattle creative agency. He is a born and bred Seattleite and lives there still with his wife, two teenage kids, and one large goldendoodle. His loves are sports, movies, and books. He's a middling golfer and used to have reasonable pop from the right side of the plate in his softball days. His favorite book is A Gentleman in Moscow, by Amor Towles; his favorite movie is Casablanca. Perhaps his greatest desire is to see the Seattle Mariners in the World Series in his lifetime. He is not holding his breath.
Praise For…
---
"Soon after the Lindbergh kidnapping, and long before Patty Hearst, there was George Weyerhaeuser. Bryan Johnston's meticulous research brings alive the historical figures behind the snatch of a poor, rich boy and those people affected by it...including the victim! The Venn diagram for lovers of history, court dramas, and true crime investigations overlap at Deep in the Woods."
— Kevin Flynn, author of "Our Little Secret" and co-host, "Crime Writers On..."

"Deep in the Woods delivers a spellbinding tale of an unspeakable crime, an intense investigation, and, in the end, incredible mercy. A must-read for true crime fans."
— Anthony Amore, New York Times bestselling author of "The Woman Who Stole Vermeer"

"Fascinating historical crime with characters so vivid and realistic they seem to have stepped out of a police crime log. Johnston has uncovered a real gem of a true story and tells it with skill."
— Anthony Flacco, New York Times bestselling author, "Impossible Odds"

"Bryan Johnston's newest book, Deep in the Woods, is a true crime story that reads like fiction with its beautiful prose and engaging storytelling full of historical details that draw you into the narrative. Even if you know nothing about the kidnapping of nine-year-old George Weyerhaeuser in 1935, due to Johnston's impeccable research, you will come away with a full understanding of how this compelling story unfolded step by step. Johnston takes you on an exquisite journey back in time to tell this fascinating story. It's a journey you don't want to miss."
— Amanda Lamb, News Reporter, WRAL-TV