Rural Renaissance: Revitalizing America's Hometowns through Clean Power (Paperback)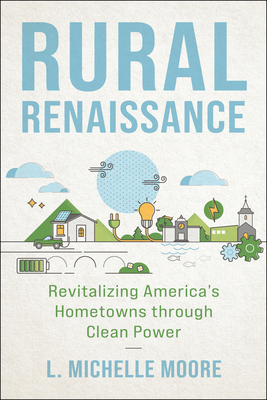 $35.00

Usually Ships in 1-5 Days
Description
---
For decades, we've heard that local, renewable power is on the horizon, and cheaper technologies will one day revolutionize our energy system. Michelle Moore has spent her career proving this opportunity is already here—and any community, no matter how small, can build their own clean energy future. Rural Renaissance: Revitalizing America's Hometowns Through Clean Power is the inspiring and practical guide to igniting this transition today.

In Rural Renaissance, Moore argues we don't have to wait for new legislation or technologies to begin our work. From the White House to her hometown in rural Georgia, Moore has gathered the tools needed to bring the far-reaching benefits of clean power to small communities, particularly in rural America. In this accessible guide, Moore provides an overview of the current energy landscape, including the federal, state, and local policies that will shape each community's unique approach. Next, she describes five pathways to clean power in rural America and strategies for achieving them, including energy efficiency, renewable power, resilience (including microgrids and battery storage), the electrification of transportation, and finally, broadband internet. Throughout this journey, Moore shares stories of challenges and successes and encourages readers to design programs that address inequality.

Clean energy shouldn't be reserved for the wealthy or for sleek and modern city centers. Rural Renaissance offers a vision of thriving rural communities where clean power is the spark that leads to greater investment, vitality, and equity. We can start today—and this book provides the toolbox.
 
About the Author
---
L. Michelle Moore is CEO of Groundswell, a nonprofit that builds community power by connecting solar and energy efficiency with economic development, affordability, and quality of life. In December 2022, she was confirmed by the US Senate to serve on the Tennessee Valley Authority (TVA) Board of Directors.  A social entrepreneur and former White House official with roots in rural Georgia, Michelle has been helping communities across America shape sustainable, clean energy futures for 25 years. Her accomplishments range from leading the effort to cut federal energy use by $11 billion and deploy 3.2 gigawatts of new renewable energy for President Obama, to developing innovative new clean energy programs for her hometown. Michelle was born and raised in LaGrange, Georgia, and now lives in Midlothian, Virginia, with her family. Her work is rooted in her faith, and the commandment to "love your neighbor as yourself."
Praise For…
---
"A very important and understandable book on developing sustainable and resilient rural electric infrastructure…. a reference book for a rural development policy course and for rural community organizations such as electric cooperatives and extension services engaged with renewable energy development."  
— Journal of Environmental Studies and Sciences
"In this personal, poignant, and pragmatic book, Michelle Moore aligns her life story with her life's work to show how we can, and must, empower rural America with the tools to participate in our clean energy future. Rural Renaissance ably demonstrates that the power to change the world resides in every community."
— Joel Makower, Chairman and Cofounder, GreenBiz Group
"Michelle Moore's prescriptions for rural America are grounded in her deep knowledge of renewable energy, our historic agricultural economy, and its rich cultural legacy. We are a rapidly urbanizing country, but our roots remain rural, and like the strongest trees, we need those roots to be vibrant and healthy. The health of rural America is everyone's business!"
— Dianne Dillon-Ridgley, Board Chair at the Center for International Environmental Law and former four-term President of the Iowa Association of Human Rights Agencies
"As someone who grew up there, I know rural America has to be a critical part of a clean energy future. This book equips local leaders to make sure the future includes rural jobs, businesses, and a clean energy industry made in rural America."
— Ray Mabus, former Secretary of the Navy and former Governor of Mississippi