Napoleon: A Life Told in Gardens and Shadows (Hardcover)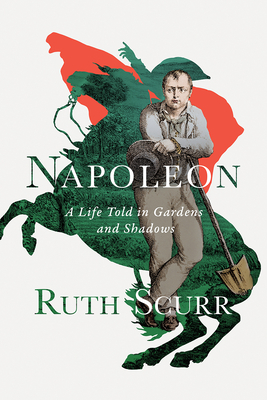 $28.95

Usually Ships in 1-5 Days
Staff Reviews
---
In this totally original perspective on the occasion of the 200th anniversary of Napoleon's death, we learn that Napoleon created a garden in military school so he could be in solitude, that he returned again and again to Corsica to salvage his father's mulberry nursery, and that he designed formal gardens wherever he lived at home or abroad. Yes, he was mighty, but also an intermittent gardener, naturalist, scientist, and explorer. Scurr believes gardening was Napoleon's first and last love, offering him a retreat from war and politics. This is a beautiful book to read!
— Carolyn
Description
---
Best Books of the Year • Financial Times, The Times (of London), History Today
Marking the 200th anniversary of his death, Napoleon is an unprecedented portrait of the emperor told through his engagement with the natural world.
"How should one envisage this subject? With a great pomp of words, or with simplicity?" —Charlotte Brontë, "The Death of Napoleon"
The most celebrated general in history, Napoleon Bonaparte (1769–1821) has for centuries attracted eminent male writers. Since Thomas Carlyle first christened him "our last Great Man," regiments of biographers have marched across the same territory, weighing campaigns and conflicts, military tactics and power politics. Yet in all this time, no definitive portrait of Napoleon has endured, and a mere handful of women have written his biography—a fact that surely would have pleased him.
With Napoleon, Ruth Scurr, one of our most eloquent and original historians, emphatically rejects the shibboleth of the "Great Man" theory of history, instead following the dramatic trajectory of Napoleon's life through gardens, parks, and forests. As Scurr reveals, gardening was the first and last love of Napoleon, offering him a retreat from the manifold frustrations of war and politics. Gardens were, at the same time, a mirror image to the battlefields on which he fought, discrete settings in which terrain and weather were as important as they were in combat, but for creative rather than destructive purposes.
Drawing on a wealth of contemporary and historical scholarship, and taking us from his early days at the military school in Brienne-le-Château through his canny seizure of power and eventual exile, Napoleon frames the general's story through the green spaces he cultivated. Amid Corsican olive groves, ornate menageries in Paris, and lone garden plots on the island of Saint Helena, Scurr introduces a diverse cast of scientists, architects, family members, and gardeners, all of whom stood in the shadows of Napoleon's meteoric rise and fall. Building a cumulative panorama, she offers indelible portraits of Augustin Bon Joseph de Robespierre, the younger brother of Maximilien Robespierre, who used his position to advance Napoleon's career; Marianne Peusol, the fourteen-year-old girl manipulated into a Christmas-Eve assassination attempt on Napoleon that resulted in her death; and Emmanuel, comte de Las Cases, the atlas maker to whom Napoleon dictated his memoirs. As Scurr contends, Napoleon's dealings with these people offer unusual and unguarded opportunities to see how he grafted a new empire onto the remnants of the ancien régime and the French Revolution.
Epic in scale and novelistic in its detail, Napoleon, with stunning illustrations, is a work of revelatory range and depth, revealing the contours of the general's personality and power as no conventional biography can.
About the Author
---
Lecturer and Fellow at Gonville & Caius College, University of Cambridge, Ruth Scurr is a historian, writer, and literary critic. The author of the award-winning Fatal Purity: Robespierre and the French Revolution, she lives in Cambridge, United Kingdom.
Praise For…
---
Beautiful.... It is an adjustment to think of Napoleon as a cultivator rather than as a conqueror, a planter rather than a planner. But such ambivalences are precisely Ms. Scurr's métier.... The mountain of biographies written about the 'Little Corporal' must, at this point, be higher than the Alps he famously crossed in 1800, but her horticultural angle allows Ms. Scurr to tell the endlessly fascinating story of his life anew: not as a megalomaniac's power-hungry ascent to temporary glory but as the constantly frustrated reaching for the plenitude and happiness that Joséphine's found in her garden.
— Christoph Irmscher - Wall Street Journal

An elegant prose stylist, Scurr is above all a fabulous historian, and a vivid storyteller with a novelist's eye for engaging detail. With the exception of the Battle of Waterloo—the most significant fighting of which took place over a garden at Hougoumont—the wars in this book occur largely offstage. Napoleon emerges not in his warrior guise but in his full humanity... History's palimpsest emerges in these pages too, through Scurr's accounts of modern-day places shaped by Napoleon's vision: while his empire is the stuff of history books, his legacy as a landscape genius endures.
— Claire Messud - Harper's Magazine

Scurr has ingeniously somehow found an entirely new prism through which to view Napoleon... Dr Scurr takes the opportunity to discourse on numerous aspects of Napoleon and the natural world, and has ultimately produced a somewhat eccentric but immensely satisfying and captivating book... 'There is always something new to say,' Scurr says of Napoleon, 'no matter how many regiments of biographers have marched across the same ground.' With this charming and intelligent book about a hitherto entirely unexamined aspect of the Bonapartist epic, she persuades us of this comforting truth.
— Andrew Roberts - Times Literary Supplement

Improbably glorious and exceptionally herbaceous.... Scurr, lecturer in history and politics at Cambridge university, has achieved something remarkable: a completely original book on a completely unoriginal subject. But then she is herself a truly remarkable writer, one of the most gifted non-fiction authors alive.... Marvellous.
— Simon Schama - Financial Times

The Cambridge historian Ruth Scurr brings shades of subtletly and nuance to a life well known, telling Napoleon's story through his love of nature and the gardens. A brilliantly original biographer of Robespierre – briefly Napopleon's ally – and of John Aubrey, Scurr has attributes too often missing among her contemporaries. She can write, beautifully : and she casts a cold eye on proceedings, unfazed by previous adoration or condemnation of her subject…. Grippingly original.
— Paul Lay, The Sunday Times [UK]

Scurr's is an approach that pays some real dividends [of] rich details [and] fresh perspectives.
— David Crane - The Spectator

Looking at Bonaparte through the lens of his passion for gardens brings out new and fascinating details about his life, including his love of science and engineering, his obsession with botany and especially his desire to stamp order upon an unruly natural and political world.... Scurr is well known for her inventive and absorbing biographies.... A rewarding book that gives intriguing and novel insight into a man about whom we thought everything had already been said.
— Deborah Mason - Bookpage

Even readers well-versed in Napoleon's rise and fall will learn something new from this gracefully written and imaginatively conceived portrait.
— Publishers Weekly

A diligent historian, Scurr does not ignore the wars and politics that dominated Napoleon's life, and she concludes with a vivid account of the battle of Waterloo, in which the chateau of Hougoumont, with its 'high garden walls,' played a central role . . . A wealth of natural history and a fine Napoleon biography.
— Kirkus Reviews

Scurr. . . uses her signal strength as biographer. . . Scurr's vivid writing helps to convey a visual portrait . . . [and] presents an unusual perspective on the life of the general.
— David Keymer - Library Journal

If you read just one biography this year, make it Ruth Scurr's brilliant and original exploration of Napoleon's life as an amateur gardener. Everything makes sense once you realize this was a man obsessed with making nature go his way.
— Amanda Foreman, bestselling author of Georgiana: Duchess of Devonshire

From Napoleon's first garden as a schoolboy to his last on Saint Helena, Ruth Scurr takes us on a journey filled with unexpected new vistas on a familiar life. Napoleon: A Life Told in Gardens and Shadows foregrounds his passion for science and love of the natural world. The result is a refreshing, engaging read.

— Victoria Johnson, Pulitzer Prize finalist and author of American Eden

Ruth Scurr's imaginative take on Napoleon's life serves up fascinating insights into the man's behavior and motivations, as well as an illuminating account of those around him. The gardening angle is fresh and perfectly developed; to garden is to control and manipulate, an empire builder does the same.
— Penelope Lively

It is hard to find fresh things to say about Napoleon, but Ruth Scurr has managed it. . . . No one interested in Napoleon will fail to discover here something unknown or unexpected.
— William Doyle, professor emeritus of history at the University of Bristol and author of The Oxford History of the French Revolution

A pleasure to read. . . . Ruth Scurr's sharp perception opens new vistas in the extensive landscape of Napoleon's boundlessly curious mind.
— Sue Prideaux, author of I Am Dynamite! A Life of Nietzsche

Ruth Scurr gives us a captivating, original perspective on a man too often simplified as a glorious—or vainglorious—emperor on horseback. Her sparkling book reminds us of Napoleon's human frailties and, above all, that he was also a man of science fascinated by the order, diversity, and richness of the plant world.
— Peter McPhee, author of Liberty or Death: The French Revolution