The Tragedy of Patton a Soldier's Date with Destiny: Could World War II's Greatest General Have Stopped the Cold War? (Hardcover)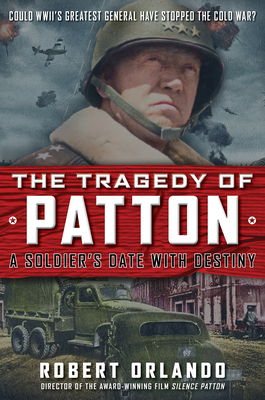 $27.99

Usually Ships in 1-5 Days
Description
---
BETTER TO FIGHT FOR SOMETHING THAN LIVE FOR NOTHING. -- GENERAL GEORGE S. PATTON
It is 75 years since the end of WW II and the strange, mysterious death of General George S. Patton, but as in life, Patton sets off a storm of controversy.
THE TRAGEDY OF PATTON: A Soldier's Date With Destiny asks the question: Why was General Patton silenced during his service in World War II? Prevented from receiving needed supplies that would have ended the war nine months earlier, freed the death camps, and prevented Russian invasion of the Eastern Bloc, and Stalin's murderous rampage. Why was he fired as General of the Third Army and relegated to a governorship of post-war Bavaria? Who were his enemies? Was he a threat to Eisenhower, Montgomery, and Bradley? And is it possible as some say that the General's freakish collision with an Army truck, on the day before his departure for US, was not really an accident? Or was Patton not only dismissed by his peers, but the victim of an assassin's bullet at their behest? Was his personal silence necessary?
Early in his life, Patton was a markedly insecure man, petrified by the notion of failing to live up to the standards of his pedigree. Patton was haunted by "several sets of ghosts" throughout his lifetime, including his martial ancestors, the great men of history and literature, and figures from his early years, especially relatives. As far as Patton saw it, his chief duty in life was to live up to -- if not surpass -- the military precedent set by his forebears. George Patton was driven by an innate sense of duty, both to his family's great military tradition and to his country. He was fixated on the notion of reaching the status of a military legend, and driven by outdated notions about honor, drawing from the Greek concept of ar te and medieval notions of chivalry, both of which had received a heightened level of attention in the 1800s. As a general, Patton measured himself against Alexander, Caesar and Hannibal of antiquity. Combat was, for Patton, the means by which to attain glory and secure his eternal legacy.
Patton was simultaneously brilliant and deeply flawed. He lived an exciting, compulsive life, never standing still for a moment, always searching, seeking, probing. He was daring and noble on occasion, like the Greek and Roman military legends he revered. At other times he was petulant and cruel, lacking in the diplomatic grace and tact that defined many of his contemporaries, a real son-of-a-bitch (i.e. "Our Blood His Guts" They were mocking him). Patton was the kind of guy the Allies needed to get the dirty work done on the ground, but also the guy they wanted to get rid of or silence when the fighting was over. This is hardly surprising, given how outspoken Patton was about the conduct of the war -- especially its end and aftermath -- and his willingness to identify the Soviet Union as the next great threat to American democracy and world peace.
General George S. Patton was America's antihero of the Second World War. Orlando explores whether a man of such a flawed character could have been right about his claim that because the Allied troops, some within 200 miles of Berlin, or just outside Prague, were held back from capturing the capitals to let Soviet troops move in, the Cold War was inevitable. Patton said it loudly and often enough that he was relieved of command and silenced. Patton had vowed to "take the gag off" after the war and tell the intimate truth and inner workings about controversial decisions and questionable politics that had cost the lives of his men. Was General Patton volatile, bombastic, self-absorbed, reckless? Yes, but he was also politically astute and a brilliant military strategist who delivered badly needed wins.
Questions still abound about Patton's rise and fall. THE TRAGEDY OF PATTON seeks to answer them.
About the Author
---
Robert Orlando (Princeton, NJ) is an award-winning writer and filmmaker, and the author of The Divine Plan: John Paull II, Ronald Reagan, and the Dramatic End of the Cold War and Apostle Paul: A Polite Bribe. The founder of Nexus Media, he has been involved in the writing, directing, production, development, or release of more than a dozen film and documentary projects, including: A POLITE BRIBE, THE DIVINE PLAN, MOMENT IN TIME, ROAD TO VALOR, DAUGHTER OF MERCY and THUCYDIDES TRAP: CHINA & THE COMING COLD WAR. Sony Pictures released his most recent award-winning documentary SILENCE PATTON: First Victim of the Cold War and the DVD will release in Fall 2020 for the 75th Anniversary of General George S. Patton's strange and suspicious death and the end of World War II. http: //www.silencepatton.com/ https: //www.robomantix.com/ https: //www.thedivineplanmovie.com/ http: //apolitebribe.com/ https: //www.nexusmediasite.com/ The author lives & works in the New York City metro area.