Moving Words About a Flower (Hardcover)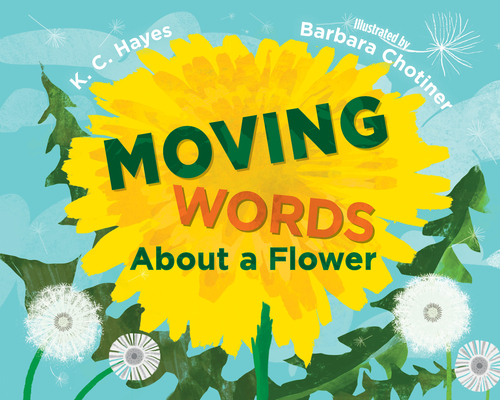 $16.99

Usually Ships in 1-5 Days
Description
---
Words tumble, leap, and fly in this clever shape poem about a resilient dandelion.
The inspiring story of a dandelion that survives against all odds, ingeniously told through shape poems (also called "concrete poems") full of visual surprises. When it rains, letters fall from the sky; and when seeds scatter, words FLY!
Each playful page will have readers looking twice. The back of the book includes more information about the life cycle of the humble, incredible dandelion.
NSTA-CBC's 2023 Outstanding Science Trade Books List
2023 Notable Children's Books in the Language Arts List by the CLA (Children's Literature Assembly)
About the Author
---
K. C. Hayes has been a guitarist in a rock band, the inventor of a patented kid's playhouse, a writer and designer of greeting cards, and an advertising agency copywriter, but these days he's venturing into new creative fields. This is his first picture book.

Barbara Chotiner combines traditional techniques with modern approaches to create organized chaos. She loves making people smile with her sophisticated yet whimsical illustrations. This is her sixth illustrated book.
www.barbchotiner.com

Praise For…
---
The life cycle of a resilient dandelion that sprouts in a crack of a busy city sidewalk is written as a concrete poem. The dandelion's seeds blow far from the city, landing in a field where they sprout. The story takes place over the four seasons, describing how the dandelion survives: "At last the child found it, plucked it, and took a mighty breath…and whoosh!" The full-color gouache artwork begins in a gray city and moves to the green field with a blue sky. The text is placed on the pages to mirror the movement of rain, wind, and snow. People are shown with different skintones, and the little girl at the end has brown skin and long black hair. The book ends with four pages of facts on dandelions, making this a nice informational book for young children.
—BayViews

Growing in the crack of a sidewalk, a little dandelion sets seeds sailing to a new meadow home. Following the seeds' journey from the concrete jungle to a lush summer field, readers will learn all about the little plant's life cycle and versatile habits. The clever integration of text, color, and imagery has the words dancing across the pages in the style of shape or concrete poetry. When a rainbow appears, the multi-hued words arc across the scene. As the dandelion seeds lie dormant through the winter, stolid lines of chunky text evoke the oppressive weight of heavily falling snow. Deer nibbling the tasty flower petals leave the letters looking decidedly worse for wear. Readers will enjoy following the frolicking text, excited to see where it goes at the next turn of the page, culminating in the familiar pleasure of blowing on a dandelion puff. The city scenes depict a diverse and vibrant urban community, creating a pleasurable contrast to the green, animal-filled meadow. Back matter includes additional information about a dandelion's life cycle, enhancing the book's potential for integration into lessons of plants, life cycles, and seasons.
VERDICT Perfect for spring, this lively celebration of the humble dandelion adds flair to all collections.
—School Library Journal