Tell Me So I Can Hear You: A Developmental Approach to Feedback for Educators (Paperback)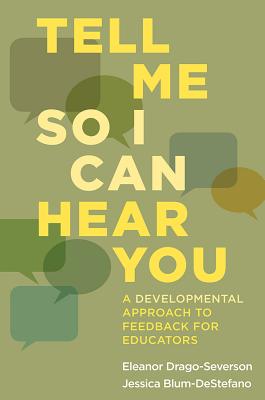 $32.00

Usually Ships in 1-5 Days
Description
---
In Tell Me So I Can Hear You, Eleanor Drago-Severson and Jessica Blum-DeStefano show how education leaders can learn to deliver feedback in a way that strengthens relationships as well as performance and builds the capacity for growth. Drawing on constructive-developmental theory, the authors describe four stages of adult growth and development and explain how to differentiate feedback for colleagues with different "ways of knowing," which include: - Instrumental knowers, who tend to see things in black and white ("Did I do it right or wrong?") and may need to develop the capacity for reflection.
- Socializing knowers, who are concerned with maintaining relationships ("What do you want me to do?") and may need support developing their own ideas.
- Self-authoring knowers, who have strong ideologies and values ("How does this fit with my goals and vision?") and may need help with perspective taking.
- Self-transformative knowers, who are able to examine issues from multiple points of view ("How can I understand this more deeply?") and may need guidance in resolving tensions and contradictions. The authors show how leaders can provide feedback in ways that "meet people where they are" while expanding the developmental capacities educators bring to their work. Drago-Severson and Blum-DeStefano provide real-life examples with practical strategies for creating a safe space for feedback, finding the right words, and bridging feedback and action. Tell Me So I Can Hear You offers invaluable guidance to help educators support a culture of learning in classrooms, schools, and districts.
About the Author
---
Eleanor Drago-Severson is Professor of Education Leadership and Adult Learning & Leadership at Teachers College, Columbia University. A developmental psychologist, Ellie teaches, conducts research, and consults to school and district leaders, teacher leaders, and organizations on professional and personal growth and learning; leadership that supports principal, teacher, school, and leadership development; and coaching and mentoring in K-12 schools, university settings, and other adult education contexts. She is also an internationally certified developmental coach who works with leaders to build internal capacity and achieve goals. Her work is inspired by the idea that schools must be places where adults and children can grow, and she is dedicated to creating the conditions to achieve this and to helping leaders and educators of all kinds to do the same on behalf of supporting adults and youth. At Teachers College, Ellie is director of the PhD Program in Education Leadership, teaches aspiring and practicing principals in Columbia University's Summer Principal Academy and aspiring superintendents in the Urban Education Leaders Program, and also coaches principals, assistant principals, and teacher leaders in the Cahn Fellows Program for Distinguished Leaders. Teachers College has recognized her teaching with three awards. She earned her BA from C.W. Post, Long Island University, and her masters and doctorate from the Harvard Graduate School of Education, where she was awarded a postdoctoral fellowship from 1998 to 2001. Prior to her work at Teachers College, she served on the faculty at the Harvard Graduate School of Education (1998- 2005), where she was awarded the Morningstar Award for excellence in teaching (2005). Ellie is author of the best-selling books Helping Teachers Learn: Principal Leadership for Adult Growth and Development (Corwin, 2004) and Leading Adult Learning: Supporting Adult Development in Our Schools (Corwin/The National Staff Development Council, 2009), as well as Becoming Adult Learners: Principles and Practices for Effective Development (Teachers College Press, 2004) and Helping Educators Grow: Practices and Strategies for Supporting Leadership Development (Harvard Education Press, 2012). She is also a coauthor of Learning for Leadership: Developmental Strategies for Building Capacity in Our Schools (Corwin, 2013) and Learning Designs: Reach the Highest Standard of Professional Learning (Corwin, 2015). Jessica Blum-DeStefano earned her PhD in Education Leadership from Teachers College, Columbia University, after nine rewarding years as a teacher and school leader in alternative education settings. Her research is situated at the intersection of adult development and student voice, and highlights the foundational role of individual identity, authenticity, and relationships for both students and teachers. Jessica is an adjunct instructor at Bank Street College of Education and, for the past seven years, has cotaught adult development with Ellie in the Summer Principals Academy at Teachers College. She is also a coauthor of Learning for Leadership: Developmental Strategies for Building Capacity in Our Schools (Corwin, 2013). Jessica holds additional degrees from Emory University (BA), Hofstra University (MA), and Teachers College (M.Phil.). Ellie and Jessica are cofacilitators of the Developmental Leadership Institute for School Change at Teachers College, Columbia University. They work closely together on numerous research, writing, teaching, and professional development projects.