People of the First Crusade: The Truth About the Christian-Muslim War Revealed (Paperback)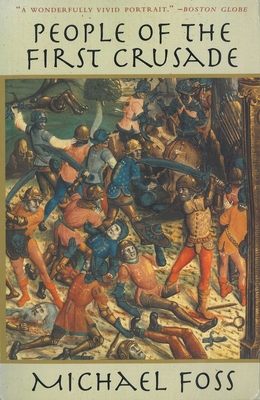 $14.95
Email or call for price.
Description
---
Near the end of the eleventh century, Western Europe was in turmoil, beset by invasions from both north and south, by the breakdown of law and order, and by the laxity and ignorance of the clergy. Searching for a way out of the increasing anarchy, Pope Urban II launched an army of knights and peasants in 1095 to fight the Turks, who had seized the Holy Land.

Michael Foss tells the stories of these men and women of the First Crusade, often in their own words, bringing the time and events brilliantly to life. Through these eyewitness accounts the clichés of history vanish; the distinctions between hero and villain blur; the Saracen is as base or noble, as brave or cruel, as the crusader. In that sense, the fateful clash between Christianity and Islam teaches us a lesson for our own time. Foss reveals that the attitudes and prejudices expressed by both Christians and Muslims in the First Crusade became the basic currency for all later exchanges—down to our present day conflicts and misunderstandings—between the two great monotheistic faiths of Mohammed and Jesus Christ.
About the Author
---
Michael Foss has studied and taught history in both England and the United States. He is the author of more than a dozen books, including The People of the First Crusade, The Search for Cleopatra, The Founding of the Jesuits, The Borgias, and The Greek Myths. He lives in England.