Merchants of Doubt: How a Handful of Scientists Obscured the Truth on Issues from Tobacco Smoke to Climate Change (Paperback)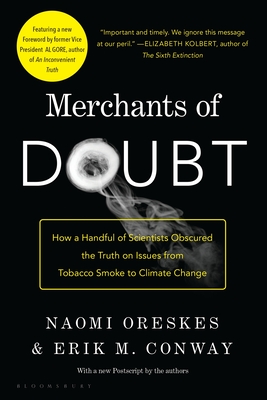 $19.00

Usually Ships in 1-5 Days
Description
---
Featuring a new Foreword by former Vice President Al Gore

Finalist for the Los Angeles Times Book Prize

"Important and timely. We ignore this message at our peril."—Elizabeth Kolbert

Merchants of Doubt has been praised—and attacked—around the world, for reasons easy to understand. This book tells, with "brutal clarity" (Huffington Post), the disquieting story of how a loose-knit group of high-level scientists and scientific advisers, with deep connections in politics and industry, ran effective campaigns to mislead the public and deny well-established scientific knowledge over four decades. The same individuals who claim the science of global warming is "not settled" have also denied the truth about studies linking smoking to lung cancer, coal smoke to acid rain, and CFCs to the ozone hole. "Doubt is our product," wrote one tobacco executive. These "experts" supplied it. Merchants of Doubt rolls back the rug on this dark corner of American science. Now with a new Foreword by former Vice President Al Gore, and with a new Postscript by the authors.
About the Author
---
Naomi Oreskes is a professor of the history of science and affiliated professor of Earth and planetary sciences at Harvard University. Her study "Beyond the Ivory Tower," published in Science in 2004, was a milestone in the fight against global warming denial and was cited by Al Gore in An Inconvenient Truth. Her books include Why Trust Science? and Science on a Mission: How Military Funding Shaped What We Do and Don't Know about the Ocean.
Erik M. Conway has published five previous books, including Atmospheric Science at NASA: A History and Exploration and Engineering: The Jet Propulsion Laboratory and the Quest for Mars. Merchants of Doubt was their first book together. In 2014, they published The Collapse of Western Civilization: A View from the Future, and they are currently working on The Magic of the Marketplace: The True History of a False Idea.
Praise For…
---
"Anyone concerned about the state of democracy in America should read this book" —Al Gore

"A fascinating account of a very thorny problem" —Bill McKibben

"Merchants of Doubt should finally put to rest the question of whether the science of climate change is settled. It is, and we ignore this message at our peril" —Elizabeth Kolbert

"If you read just one book on climate change this year, read Merchants of Doubt. And if you have time to read two, reread Merchants of Doubt." - Grist

"Brilliantly reported and written with brutal clarity . . . Oreskes and Conway do a great public service." - The Huffington Post

"A powerful dissection of how right wing think tanks and private corporations sow doubt on scientific consensus to block action on critical climate and public health issues." - Tom Steyer, via Twitter

"An important book . . . The next time a friend or Fox News commentator or political candidate assaults you with the claim that 'climate change isn't happening' or 'isn't caused by human activities,' you will recognize the source of their colossal misunderstanding." - Star Tribune (Minneapolis-St. Paul)

"It is tempting to require that all those engaged in the business of conveying scientific information to the general public should read it." - Science