Did It! From Yippie To Yuppie: Jerry Rubin, An American Revolutionary (Hardcover)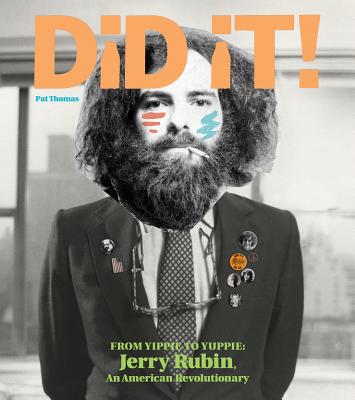 $49.99

On Our Shelves; Typically Ships in 1 - 2 Days
Description
---
This is the first art book and biography of Yippie Jerry Rubin.
Did It! From Yippie to Yuppie: Jerry Rubin, an American Revolutionary is an oversized oral & visual history of the infamous and ubiquitous Rubin – the first ever biography of the co-founder of the Yippies, Anti-Vietnam War radical, Chicago 8 defendant, New Age/Self Help proponent, and social-networking pioneer.  
Based upon over 75 original interviews with his co-conspirators, friends and foes, this book not only explores the life and times of Rubin, but the generation that consisted of idealistic firebrands in the 1960s, segued into the Me generation in the 1970s, and became full blown capitalists engaged in the 1980s. 
Those interviewed include fellow Chicago 8 Defendants, participants in the Berkeley Free Speech Movement; Paul Krassner, Judy Gumbo, Nancy Kurshan, John & Leni Sinclair, Bobby Seale, Rennie Davis, Lee Weiner, Country Joe McDonald and dozens more reveal, in their own words, vibrant stories of the era. Often left out in histories of the radical sixties, twenty women speak out in their own voice! Also chronicled is the 1970's New Age Movement with commentary from Stella Resnick, Werner Erhard, Mimi Leonard and others. 
Bizarre interactions with luminaries including Allen Ginsberg, Bob Dylan, Timothy Leary, and John Lennon are described via interviews and diaries (found in Rubin's personal archives  and published here for the first time) along with photographs and correspondence with Norman Mailer, Eldridge Cleaver, Mayor Daley and the Weathermen. Also explored is the oft-misunderstood relationship between Rubin and his partner-in-crime Abbie Hoffman with controversial insights into their Yippie vs. Yuppie debates. 
About the Author
---
Pat Thomas has appeared on the BBC & NPR as the author of Listen, Whitey! — he was a consultant to the PBS documentary The Black Panthers: Vanguard of the Revolution. He has lectured at USC, Evergreen State and the Universities of Copenhagen, Oslo & East London. He curated the book Invitation To Openness: The Jazz & Soul Photography of Les McCann 1960-1980 and compiled an Allen Ginsberg box set: The Last Word on First Blues. He lives in California.

Jerry Rubin (1938-1994) was an American social activist, anti-Vietnam War leader, enemy of Richard Nixon and countercultural icon during the 1960s and 1970s. In the 1980s, he pioneered social-networking parties at Studio 54.
Praise For…
---
This tome is a unique oral and visual history heavy enough to sink into your coffee table.
— Los Angeles Times

In this beautifully designed coffee-table scrapbook, Thomas has stitched together one of the most exciting countercultural chronicles.
— Village Voice

An eye-opener for those who remember the '60s; for everyone else, a welcome introduction to that tumultuous time as illustrated through one of its most memorable personalities.
— Kirkus

Creatively presented in an anecdotal scrapbook style combining text, posters, flyers, diaries, calendars, photographs, and assorted ephemera, Thomas captures electrifying moments from the last half century of American history.
— Publishers Weekly

Brimming with photographs, clippings, pages from Rubin's daybooks, and interviews with myriad
counterculture figures, this large volume chronicles Rubin's life from his traditional Jewish upbringing
through his raucous antiwar and antiestablishment activism and transformation into a capitalist investor or, as many said, 'sellout.' Thomas' tribute is as dynamic as its subject.
— Booklist

Did It! is a big, gorgeous book about Sixties/Seventies cultural revolutionary superstar, Jerry Rubin that finally accords him his place in American history.

— Huffington Post

Did It! is not only an important historical document, it's a deeply engaging and entertaining book.

— PopMatters