The Kerber's Farm Cookbook: A Year's Worth of Seasonal Country Cooking (Hardcover)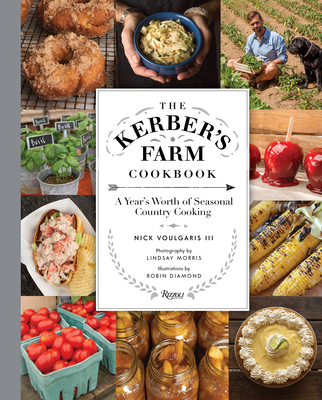 $37.50
Usually Ships in 1-5 Days
Description
---
Celebrate a year's worth of seasonally inspired recipes with a dash of country lifestyle--from lobster rolls in summer to apple cider donuts in fall.

Kerber's Farm is a seventy-five-year-old farm, roadside country market, and food company located in Long Island, New York. It has been recognized as one of the New York area's top locations for lobster rolls, homemade pies, savory meals, and tasty treats. Favorite recipes from each season are sure to please.

Experience and taste the seasons of the farm through 200 beautiful photographs and more than fifty recipes covering everything from baked goods to entrees, soups, and salads, and even homemade dog treats. Captivating vignettes offer advice about planting organic seedlings, harvesting vegetables, raising hens for fresh eggs, and caring for honeybees that support the farm's ecosystem.

Kerber's Farm will be opening a farming education school in 2020 to teach children the importance of sustainability and healthy eating habits.
About the Author
---
Nick Voulgaris III purchased Kerber's Farm in 2013 and saved it from being developed into condominiums to preserve its legacy.
Lindsay Morris is photo editor of Edible Magazine and a regular contributor to the New York Times. Her work has been featured in Time magazine, the New York Times Magazine, Marie Claire, Elle, Huffington Post, and Slate, among others. She was a 2013 Critical Mass finalist and nominee for the 2013 Julia Margaret Cameron Award.
Praise For…
---
"Best new seasonal cooking books to read In 2020." -- Nigella Lawson

"Rizzoli's new release, The Kerber's Farm Cookbook, is the ultimate culinary guide to a fresh, flavorful life, breaking down a year's worth of country recipes for the budding farm life enthusiast, with dishes that will have you excited for even your least favorite season." — Guest of a Guest

"The recipes are simple and approachable, with easy to source ingredients, making this an unpretentious farm-to-table cookbook ideal for all cooking skill levels."  
—Mission-Food.com

"If you haven't had a chance to visit Kerber's Farm yet...trust us when we say that you need to change that. Kerber's has become a Long Island institution for a reason, and a large part of that reason is its baked goods. You can find them at the farm itself, or you can now try to make them at home thanks to the release of Kerber's first cookbook: The Kerber's Farm Cookbook: A Year's Worth of Seasonal Country Cooking." — Edible East End