The Best Horror of the Year Volume Seven (Paperback)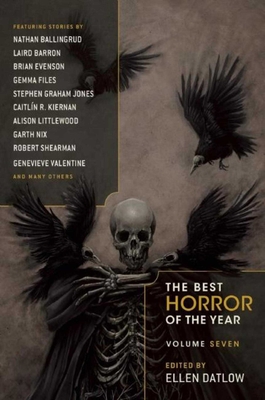 $15.99
Email or call for price.
Description
---
A sin-eater plies the tools of her dangerous trade; a jealous husband takes his rival on a hunting trip; a student torments one of his teachers; a cheap grafter is selling artifacts form hell; something is haunting the departure lounge of an airport . . .

The Best Horror of the Year showcases the previous year's best offerings in short fiction horror. This edition includes award-winning and critically acclaimed authors Laird Barron, Caitlín R. Kiernan, Nathan Ballingrud, Genevieve Valentine, and more.

For over three decades, award-winning editor and anthologist Ellen Datlow has had her finger on the pulse of the latest and most terrifying in horror writing. Night Shade Books is proud to present the seventh volume in this annual series, a new collection of stories to keep you up at night.

Skyhorse Publishing, under our Night Shade and Talos imprints, is proud to publish a broad range of titles for readers interested in science fiction (space opera, time travel, hard SF, alien invasion, near-future dystopia), fantasy (grimdark, sword and sorcery, contemporary urban fantasy, steampunk, alternative history), and horror (zombies, vampires, and the occult and supernatural), and much more. While not every title we publish becomes a New York Times bestseller, a national bestseller, or a Hugo or Nebula award-winner, we are committed to publishing quality books from a diverse group of authors.
About the Author
---
Ellen Datlow has been editing science fiction, fantasy, and horror short fiction for more than thirty years. She was the fiction editor of Omni magazine and Sci Fiction and has edited more than fifty anthologies. Datlow has also won lifetime achievement awards from three prominent genre organizations, and currently acquires short fiction for Tor.com.
Praise For…
---
Praise for Ellen Datlow and The Best Horror of the Year Series:

"Award-winning editor Ellen Datlow has assembled a tasty collection of twenty one terrifying and unsettling treats. In addition to providing excellent fiction to read, this is the perfect book for discovering new authors and enriching your life through short fiction."—Kirkus Reviews

"For more than three decades, Ellen Datlow has been at the center of horror. Bringing you the most frightening and terrifying stories, Datlow always has her finger on the pulse of what horror fans crave. . . . and the anthologies just keep getting better and better. She's an icon in the industry."—Signal Horizon

"Datlow's The Best Horror of the Year series is one of the best investments you can make in short fiction. The current volume is no exception."—Adventures Fantastic

"As usual, Datlow delivers what she promises, 'the best horror of the year,' whether it's written by the famous (Neil Gaiman) or the should-be famous (Laird Barron and many others)."
—Washington Post

"You just can't have a list of recommended speculative anthologies without including an Ellen Datlow anthology. It's. Not. Possible. The line-up in The Best Horror of the Year Volume Eight is absolutely stupendous, featuring the most frighteningly talented authors in horror fiction."—Tor.com

"Once again, [Ellen Datlow supplies] an invaluable book, featuring excellent short fiction and, in addition, providing as always precious information about what happened in the horror field last year."—Mario Guslandi, British Fantasy Society

Praise for Ellen Datlow and The Best Horror of the Year Series:

"Award-winning editor Ellen Datlow has assembled a tasty collection of twenty one terrifying and unsettling treats. In addition to providing excellent fiction to read, this is the perfect book for discovering new authors and enriching your life through short fiction."—Kirkus Reviews

"For more than three decades, Ellen Datlow has been at the center of horror. Bringing you the most frightening and terrifying stories, Datlow always has her finger on the pulse of what horror fans crave. . . . and the anthologies just keep getting better and better. She's an icon in the industry."—Signal Horizon

"Datlow's The Best Horror of the Year series is one of the best investments you can make in short fiction. The current volume is no exception."—Adventures Fantastic

"As usual, Datlow delivers what she promises, 'the best horror of the year,' whether it's written by the famous (Neil Gaiman) or the should-be famous (Laird Barron and many others)."
—Washington Post

"You just can't have a list of recommended speculative anthologies without including an Ellen Datlow anthology. It's. Not. Possible. The line-up in The Best Horror of the Year Volume Eight is absolutely stupendous, featuring the most frighteningly talented authors in horror fiction."—Tor.com

"Once again, [Ellen Datlow supplies] an invaluable book, featuring excellent short fiction and, in addition, providing as always precious information about what happened in the horror field last year."—Mario Guslandi, British Fantasy Society