Body Life: The Book That Inspired a Return to the Church's Real Meaning and Mission (Paperback)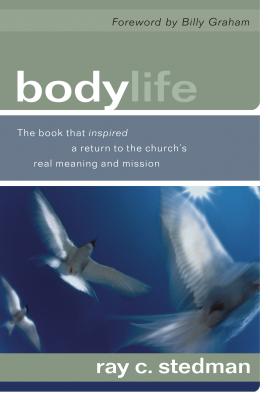 Description
---
Ray Stedman shows you how to recapture the vigor and authenticity of the early church--a radical body of enthusiastic believers who spread the Word of God throughout the world This book--considered a classic by many--brings you challenging questions that make Body Life both personal and practical.

Body Life is a groundbreaking book inspiring churches and disciples to return to New Testament Christianity. Using principles from Romans 12, 1 Corinthians 12, and Ephesians 4, Stedman helps you discover the dynamic purpose of the church and the exciting role you have to play in the body of Christ.
About the Author
---
Ray C. Stedman (1917-1992) was one of the great pastors, expositors, and spiritual leaders of the twentieth century. A graduate of Dallas Theological Seminary, he was pastor of the Peninsula Bible Church in Palo Alto, California, for forty years. With over twenty books to his credit, from "Spiritual Warfare" to his insightful commentary "Adventuring Through the Bible," Stedman spanned the experiences of the Christian life with his writing. His book "Body Life" had a tremendous impact on the church in the twentieth century.