Abundant Beauty: The Adventurous Travels of Marianne North, Botanical Artist (Paperback)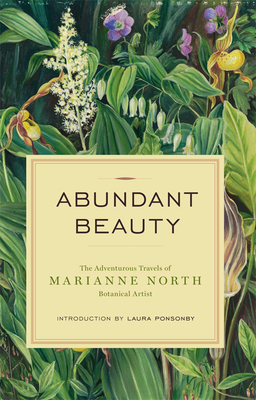 $16.95
Email or call for price.
Description
---
In 1871, Marianne North, a brilliant artist with a keen interest in botany, set-forth to travel the world on a quest to paint indigenous plants in their natural habitat. Encouraged by her friend Charles Darwin, North travelled by boat, train, mule, foot and palanquin to every continent except Antarctica. She circled the globe twice over fifteen years and accumulated an extensive and valuable collection of more than eight hundred paintings, which today comprise the esteemed Marianne North Gallery at the Royal Botanical Gardens at Kew, London. North--high-spirited, indefatigable, and brave--also kept detailed journals, which were posthumously published in three volumes in the late 1800s. Abundant Beauty collects the most engaging writings from those journals in one edition, including rich descriptions of botanica and delightful accounts of local people and customs from her sometimes dangerous travels. Abundant Beauty is a fascinating and informative read for botanists, gardeners, historians, and armchair travellers.
About the Author
---
Marianne North was born in 1830 in Hastings, England. The daughter of a politician, North was raised in a socially active and intellectually stimulating household. She cared for her parents until their deaths, taking on the role of her father's housekeeper and travelling companion until he died in 1869. For the next fifteen years, she travelled extensively, painting indigenous and unique plants from the four corners of the globe. She took her last journey (to Chile) in 1884 and then, suffering from attacks of "nerves," settled for good at her cottage at Gloucestershire to organize her journals. A number of plant species are named in her honour, including Areca northiana, Crinum northianum, and Kniphofia northiana. Marianne North died in 1890. Laura Ponsonby, former Archivist, Royal Botanical Gardens, Kew, is the author of two books about Marianne North.