Catch and Kill: Lies, Spies, and a Conspiracy to Protect Predators (CD-Audio)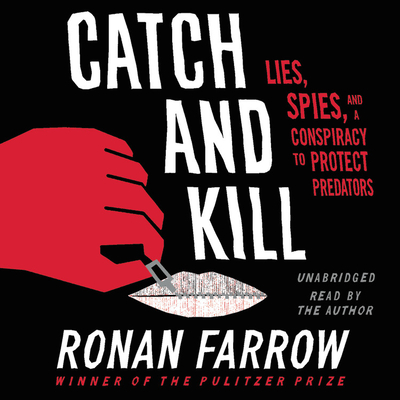 $35.00
Email or call for price.
Description
---
One of the Best Books of the Year
Time * NPR * Washington Post * Bloomberg News * Chicago Tribune * Chicago Public Library * Fortune * Los Angeles Times * E! News * The Telegraph * Apple * Library Journal
In this newly updated edition of the "meticulous and devastating" (Associated Press) account of violence and espionage that spent months on the New York Times Bestsellers list, Ronan Farrow exposes serial abusers and a cabal of powerful interests hell-bent on covering up the truth, at any cost - from Hollywood to Washington and beyond.
In 2017, a routine network television investigation led to a story only whispered about: one of Hollywood's most power­ful producers was a predator, protected by fear, wealth, and a conspiracy of silence. As Farrow drew closer to the truth, shadowy operatives, from high-priced lawyers to elite war-hardened spies, mounted a secret campaign of intimidation, threatening his career, following his every move, and weaponizing an account of abuse in his own family. This is the untold story of the exotic tactics of surveillance and intimidation deployed by wealthy and connected men to threaten journalists, evade accountability, and silence victims of abuse. And it's the story of the women who risked everything to expose the truth and spark a global movement


Los Angeles Times Book Prize Finalist
Finalist for the National Book Critics Circle Award in AutobiographyIndie Bound #1 BestsellerUSA Today BestsellerWall Street Journal Bestseller
About the Author
---
Ronan Farrow is a contributing writer to The New Yorker, where his investigative reporting has won the Pulitzer Prize for public service, the National Magazine Award, and the George Polk Award, among other honors. He previously worked as an anchor and investigative reporter at MSNBC and NBC News, with his print commentary and reporting appearing in publications including the Wall Street Journal, the Los Angeles Times, and the Washington Post. Before his career in journalism, he served as a State Department official in Afghanistan and Pakistan. He is also the author of the New York Times bestseller War on Peace: The End of Diplomacy and the Decline of American Influence.
Farrow has been named one of Time Magazine's 100 Most Influential People and one of GQ's Men of the Year. He is a graduate of Yale Law School and a member of the New York Bar. He recently completed a Ph.D. in political science at Oxford University, where he studied as a Rhodes Scholar. He lives in New York.
Praise For…
---
Time Must-Read Book of 2019 NPR Favorite Book of 2019
Washington Post Best Nonfiction Book of 2019Los Angeles Times Best Book of 2019
Chicago Tribune Best Book of 2019
Fortune Best Business Book of 2019Bloomberg Best Book of the Year
Telegraph (U.K) Best Book of 2019Kirkus Best Nonfiction Books of 2019
A Chicago Public Library Best Book of 2019
Library Journal Best Social Science Book of 2019One of USA Today's Best Books to Read While Stuck at Home



"Meticulous and devastating...part All the President's Men, part spy thriller."—Rasha Madkour, Associated Press

"At the heart of every great noir is a conspiracy of evil that imbues the initial crime uncovered by the hero with a weightier resonance than was immediately obvious. So it goes with Catch and Kill."—Elizabeth Bruenig, TheWashington Post

"The connections between presidents, media moguls, and spies described in Catch and Kill are stranger than fiction. As a novel, it would be a page-turner. As a reported piece of nonfiction, it's terrifying."—Eliana Dockterman, Time

"The year's best spy thriller is stranger - and more horrifying - than fiction...He weaves a breathless narrative as compelling as it is disturbing...bracingly exposes the rot that's persisted across elite American institutions for decades."—DavidCanfield, Entertainment Weekly

"Catch and Killis an important, frightening book...it's also a propulsive, cinematic page-turner "—Erin Keane, Salon

"Darkly funny and poignant...a winning account of how it feels to be at the centre of the biggest story in the world. It is also, of course, a breathtakingly dogged piece of reporting, in the face of extraordinary opposition."—EmmaBrockes, The Guardian (U.K.)

"Absorbing...The behavior documented in Catch and Kill is obviously and profoundly distressing. ... But there are some hopeful threads, too."—Jennifer Szalai, New York Times

"Must read: Catch and Kill, by Ronan Farrow. How #sexualabuse stories got suppressed, and how deep-diving, fact-gathering reporting blew the lid off, despite threats, intimidation, and cronymongering at the top. Chilling!"—Margaret Atwood

"Reads like a thriller...The reveal in Catch and Kill is not that there are corrupt people; it's that corrupt people are in control of our media, politics, and entertainment and that, in fact, many of them remain in control."—RebeccaTraister, The Cut

"Catch and Kill is exhaustively reported...and compulsively readable, with nearly every page revealing a provocative detail about a household name in media or entertainment."—EJDickson, Rolling Stone

"Read this book...Farrow's greatest success was to listen, believe and act, even at his own peril."—MariaL. La Ganga, Los Angeles Times

"Part memoir, part spy thriller, the book is an engrossing account of the dark arts employed by the powerful to suppress their stockpiled bad behavior as well as the cover-up culture that pervades executive suites-many of them at Farrow's former employer, NBC News."—MarisaGuthrie, The Hollywood Reporter

"Historically this book is going to have lasting importance as a vividly detailed, in-the-trenches account of the epic effort it took to try to bring down just a piece of the wall of patriarchy that has kept women exploited and oppressed in the media industry and American life forever."—David Zurawik, The Baltimore Sun

"Catch and Kill is a rip-roaring account of the years spent chasing the Weinstein story and its spin-offs. It's a deep dive into the world of US media, Hollywood pay-outs, Donald Trump's eccentric ways, spies and spineless editors. And is it gripping...dripping with jaw-dropping revelations and moments of astonishing pathos."—Harriet Alexander, The Telegraph (U.K)

"Explosive."—KateAurthur, Variety

"Catch and Kill weaves together months of reporting to reveal explosive allegations that play out like a terrifying spy thriller."—KateStorey, Esquire

"A measured but damning portrait of that failure at NBC, which he ties to a pattern of harassment and abuse within the network."—Annalisa Quinn, NPR.org

"Befitting a Farrow story, Catch and Kill is chocka¬block with scoops and revelations."—PaulFarhi, The Washington Post

"Catch and Kill reads like a thriller, prime to be adapted for the screen."—Sophie McBain, New Statesman

"The book no one can stop talking about."—Bustle

"One can only marvel at [Farrow's] courage, his resilience and moral fiber. It's one thing to tilt at windmills, it's another to tilt at a human power saw."—Stephen Galloway, The Hollywood Reporter

"Riveting and often shocking . . . Catch and Kill has gone off like a hand grenade in the world of New York media . . . compelling"—Sunday Times (U.K.)

"The book is full of plot and drama...This is a story about a ruling class of men who protect one another - and about the courage of women who speak up."—Abraham Gutman, The Philadelphia Inquirer

"This is an urgent, significant book."—Kirkus Reviews, starred

"Combines the intricate reporting of All The President's Men with Kafkaesque atmosphere to reveal troubling collusion between the media and the powerful interests they cover. This is a crackerjack journalistic thriller."—Publishers Weekly

"Catch and Kill is the latest reminder of the extent to which men in power in America can protect one another, and the consequences when that protection succeeds."—Anna North, Vox

"An engrossing, emotive, often drily funny binge... a humdinger of a story... a nuanced appreciation of how women are smeared and discredited...combines righteous anger, gossip and comedy."—The Times (U.K.)

"Catch and Kill" is, in many ways, horrifyingly grim - a nightmare confirmation of the worst in human nature and the entangled upper echelons of the media and political worlds. But, as Farrow has noted in interviews, it also admits some rays of hope."—Julia M. Klein, Forward

"Ronan
is the kind of journalist that activists like myself rely on...His care and
compassion for the stories survivors' entrusted him with shows in how
diligently he investigated each claim. After all of the work he has done to
carry their stories forward, I am excited for the world to read this book."—Tarana Burke

"Ronan Farrow has entered the pantheon of great investigative reporters. With meticulous research and endless revelations, he exposes a system of abuses and cover ups-a system that for too long has been protected. This is an invaluable book." —David Grann, #1 New York Times bestselling author of Killersof the Flower Moon

"Catch and Kill is proof that Ronan Farrow is the best kind of reporter: thorough, honest, and compassionate...it digs deep and Farrow is never afraid to tell the truth no matter where the sparks may fly."—James Patterson

"Catch and Kill is literally jaw-dropping-a shocking, meticulous record of the vast machinery with which moral bankruptcy protects itself, and of the arsenal of weapons available to colossally powerful men whose careers depend on silencing those seeking accountability and truth...This book reveals damningly widespread corruption, complacency, and cowardice, and against it, the blazing courage of the women who spoke out-it's a blueprint of a hideous world, and a foundational building block of a new one."—JiaTolentino, author of Trick Mirror

"We've been reading about sex scandals beginning with Harvey Weinstein, but only Ronan Farrow, who reported them, tells us how women's voices were discredited and suppressed for so long. Catch and Kill reads like a great detective novel, and could lead to a safer and more just future."—GloriaSteinem