Once a Giant: A Story of Victory, Tragedy, and Life After Football (Hardcover)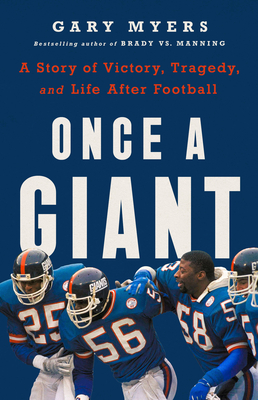 $30.00

Typically Ships in 1 - 2 Days
Description
---
The inside story of the Super Bowl champion 1986 Giants, the extraordinary friendships that resulted--and stunning revelations about the hardships they faced, based on new interviews with Bill Parcells, Phil Simms, Mark Bavaro, and Bill Belichick.

The 1986 New York Giants are legendary. A championship team coached by Bill Parcells and his wunderkind assistant Bill Belichick, featuring future Hall of Famers and All-Pros like Phil Simms, Lawrence Taylor, Mark Bavaro, and Harry Carson. They were dominant on the field and formed a unique and lasting bond off of it. More than thirty years later, it's the friendships that have proved more important--a matter of life and death.

In Once a Giant, bestselling football writer Gary Myers tells the story of that team and what became of it. Gridiron glory eventually faded; chronic pain, addiction, and in some cases crimes have followed. Many football players face these harsh realities, but the Giants have confronted and survived them together.

With unprecedented access, Myers dives into such issues as Mark Bavaro's battle with injuries, the breakup and reconciliation of Parcells and Belichick, and Lawrence Taylor's struggles with sobriety. He creates a never-before-seen portrait of the team's run to the title, and their even more challenging fight to live after it ended.
About the Author
---
Gary Myers is the former NFL columnist for the New York Daily News and Dallas Morning News. He is the author of six books, including the New York Times bestseller Brady vs. Manning, an inside look at the greatest rivalry in NFL history. Myers has been covering the NFL since 1978. He was a long-time member of the cast of HBO's Inside The NFL and the YES Network's This Week in Football. Myers is a graduate of Syracuse University's Newhouse School of Public Communication and a former adjunct professor at Syracuse. He is a voter for the Pro Football Hall of Fame.
Praise For…
---
"Like no other championship story."—Eli Manning

"If you love the Giants, and I grew up in upstate New York in the 1960s loving them, you will love Once a Giant, a story so very well told by Gary Myers about the greatest Giants team of them all and the characters who made that 1986 team such a great story. And the remarkable lives they have led since."—Mike Lupica, New York Daily News, author of The Horsewoman and House of Wolves (with James Patterson)

"The love for Big Blue by so many is just one of the reasons Once a Giant is a must-read. The issue of concussions and the profound impact it's having—and, evidently, has always had—on athletes makes it even more important that everyone takes a second to read this book. Authored by one of the best NFL writers this nation has ever seen, who has always made sure to inform and educate us and certainly hasn't stopped with this book."—Stephen A. Smith, First Take

"Once A Giant is an inside look at one of the greatest teams in NFL history, the mark they made on the sport and, more importantly, the mark the sport made on them. Myers uses his skills to make a special Giants team that much more memorable—on the field and off."—Adam Schefter, senior NFL insider, ESPN

"In Once a Giant, Myers shows vividly how the 1986 Giants, winners of the first Super Bowl in franchise history, experienced perfectly the thrill of victory and the agony of football afterlife. I covered that team, and I thought I knew those players and their bigger-than-life coach. But Bill Parcells giving those players $4 million over time to help them post-career? Five players seriously considering suicide? I had no clue. You'll learn so much more about this team of legends from the brilliant work of Myers."—Peter King, NBC Sports

"Myers was born to write this definitive book on the 1986 Giants, and on cue he delivers a masterclass in the blessings and curses of a blood sport that bonds men forever. Decades after those Giants retired, Myers brilliantly chronicles their loving and compassionate teamwork as they confront the grim price they paid on the road to Super Bowl glory."—Ian O'Connor, four-time New York Times–bestselling author

"Being hired to be head coach of the New York Giants was a dream come true. It is humbling to be in this position with such a historic franchise. Our goal is to emulate the great teams, players, and coaches who came before us. As you will read on these pages, Coach Parcells and that 1986 team laid a groundwork of what a football family is supposed to look like. Then and now. The Giants family lives on. That's important to me and important to our organization. Day by day, we want to do everything we can to further that legacy."—Brian Daboll, head coach, New York Giants

"Giants fans and all readers interested in football will be fascinated."—Booklist