Sun, Sun: The Joy of a Summer Day at the Beach ... A stunningly illustrated, fun and delightful rhyming book for Kids 2-6 (perfe (Paperback)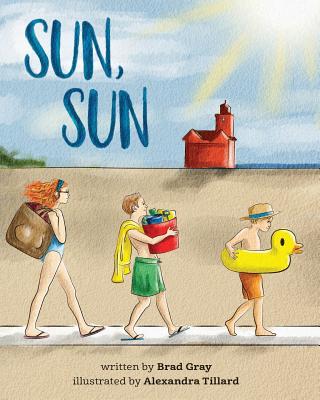 $9.99

Usually Ships in 1-5 Days
Description
---
The Perfect Summer Kids Book (comes with FREE Coloring Book)

Amazon #1 Best Seller (eBook) ... Here's what readers are saying about this fabulous book:
"This book is like a literary dose of Vitamin D It's cleverly written and engaging for a variety of ages." - Loveslilacson

"Haven't seen another book like it, and we have TONS of books " - AJ

"Great children's book Perfect for young kids - rhythm is great, illustrations are gorgeous, and length is perfect." - Faith T.

"5 Stars It is sure to become a family favorite. The words are fun and playful and the illustrations are beyond stunning " - Benjamin P.

"My 4-year-old granddaughter was totally captivated Great illustrations I'm thinking we need to head for the beach now " - Kimberly E.
Book Description:
Following a long winter and a dreary spring, the sun has returned and that means one thing - it's time to head to the beach Join three kids on their beach adventure as they experience the joys of everything from swimming to sandcastles to kites to ice cream - it's all there
You and your kids will instantly fall in love with the exquisite illustrations as well as the poetic nature of the book that makes reading it as much fun as hearing it read.
Join in on the fun and be reminded of why a day at the beach is one of life's great joys
Buy NOW and receive the "Sun, Sun" Coloring Book for FREE (details inside book)