Just Under the Clouds (Hardcover)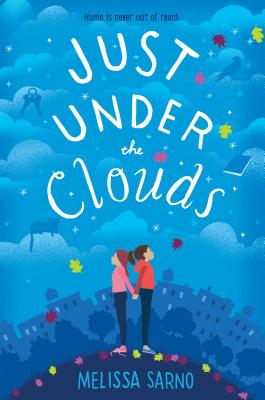 $16.99
Email or call for price.
Description
---
Can you still have a home if you don't have a house? In the spirit of The Truth About Jellyfish and Fish in a Tree comes a stunning debut about a family struggling to find something lasting when everything feels so fleeting.

Always think in threes and you'll never fall, Cora's father told her when she was a little girl. Two feet, one hand. Two hands, one foot. That was all Cora needed to know to climb the trees of Brooklyn.

But now Cora is a middle schooler, a big sister, and homeless. Her mother is trying to hold the family together after her father's death, and Cora must look after her sister, Adare, who's just different, their mother insists. Quick to smile, Adare hates wearing shoes, rarely speaks, and appears untroubled by the question Cora can't help but ask: How will she find a place to call home?

After their room at the shelter is ransacked, Cora's mother looks to an old friend for help, and Cora finally finds what she has been looking for: Ailanthus altissima, the "tree of heaven," which can grow in even the worst conditions. It sets her on a path to discover a deeper truth about where she really belongs.

Just Under the Clouds will take root in your heart and blossom long after you've turned the last page.

"[A] heartbreaking yet hopeful story of a family searching for a place to belong." --Publishers Weekly

"[A] thought provoking debut about the meaning of home and the importance of family."--Horn Book Magazine
About the Author
---
Melissa Sarno is a freelance writer and editor with an MFA in screenwriting. She writes about middle-grade books for Barnes & Noble's BNkids blog and edits YA and children's book reviews for Cleaver magazine. Read more about her at melissasarno.com. Follow her on Twitter and Instagram at @melissasarno.
Praise For…
---
"[R]ich and evocative . . . . A moving book about an all-too-common childhood experience, which is fairly uncommon in children's literature." --Booklist

"Troubling, affecting, and ultimately uplifting, from a promising debut novelist."--Kirkus Reviews

"[A] thought provoking debut about the meaning of home and the importance of family."--Horn Book Magazine

"This is a beautiful book. I loved Cora who was so warm and real. I cried over her hard life, but was thrilled over her choices. I wanted her to succeed; I wanted her to be happy. The ending of this book was wonderful; I'll never forget it." -Patricia Reilly Giff, author of Eleven

"This beautiful novel grabbed me from page one and never let go. Simply put, I loved this book. Cora and Adare wormed their way into my heart. I rooted for them, I ached for them. An incredible debut novel. I'm already a Sarno fan and can't wait to see what she does next." -Susin Nielsen, author of We Are All Made of Molecules