The Civilization of the Renaissance in Italy (Hardcover)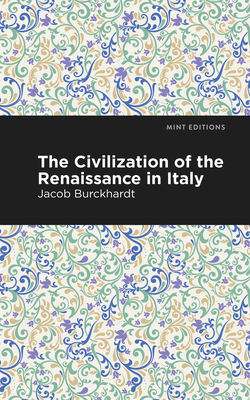 $24.99

Usually Ships in 1-5 Days
Description
---
The Civilization of the Renaissance in Italy (1860) is a work of art history by Swiss historian Jacob Burckhardt. Recognized today as the founder of modern art history and as one of the key thinkers of the nineteenth century, Burckhardt changed not only the way we think about the Renaissance in relation to European and world history, but the value placed on art as a tool for understanding historical developments.
The Civilization of the Renaissance in Italy begins with a section on the historical events which sparked the Renaissance, focusing especially on the frequent military conflicts which marred the era as well as on the constant political upheavals undergone by such Italian regions and cities as Rome, Venice, and Florence. Burckhardt then moves to a philosophical discussion of the development of individuality in Italian culture, arguing that the political circumstances of those living in the Republics enabled such thinkers as Dante and Petrarch to create art that corresponded with that newfound sense of individuality. The third section discusses one of the key elements of Renaissance culture: the revival of interest in the cultural products of the ancient world, especially Greece and Rome. Part four focuses on the prominence of discovery in Renaissance culture, for which Burckhardt looks to the colonial expedition of Columbus, the growth of the natural sciences, and the achievements of such poets and writers as Dante, Petrarch, and Boccaccio in discovering new ways to describe humanity and the human spirit. In the fifth section, the importance of societal customs and festivals is discussed, and in the sixth and final part, Burckhardt observes the profound shifts undergone by religion and morality in Italy at the time.
The Civilization of the Renaissance in Italy is a thorough, dynamic work of art history that not only changed the study of history at universities around the world, but elevated the status of art in understanding the process of cultural change.
With a beautifully designed cover and professionally typeset manuscript, this edition of Jacob Burckhardt's The Civilization of the Renaissance in Italy is a classic of European art history reimagined for modern readers.