Tried by Fire: The Story of Christianity's First Thousand Years (MP3 CD)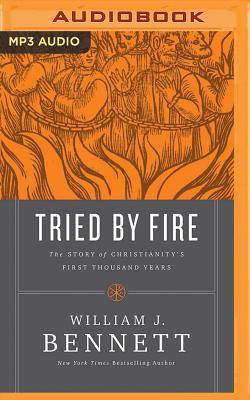 $14.99
Email or call for price.
Description
---
A major narrative history of Christianity's first thousand years by acclaimed educator and #1 New York Times bestselling author William J. Bennett
As shocking as it sounds, Christian persecution is at an all-time high. From the modern martyrs facing the scourge of the Islamic State to the sanctioned destruction of Christian churches in the aftermath of the Arab Spring, the Church is facing trials it hasn't seen since the first millennium AD. Tried by Fire tells the stories of those first Christian centuries and reveals that persecution and violence has been the Church's lot from the outset.
Former secretary of education, syndicated radio host, and New York Times bestselling author Dr. William J. Bennett has written over twenty books on America, virtue, and education. In Tried by Fire, Bennett turns his attention to the development of the early Christian church, with a special focus on how it was shaped and strengthened by centuries of imprisonment, torture, and martyrdom. In the midst of the Church's harshest persecution in centuries, ignorance is not an option--the time to reengage with the heroes of church history is now.