The Snark Handbook: Christmas Edition: Sarcasm, Bitterness, and the Holiday Season (Snark Series) (Paperback)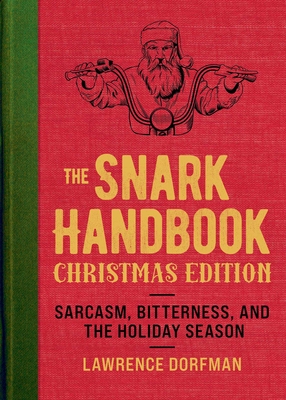 $16.99

Typically Ships in 1 - 2 Days
Description
---
Bah! Humbug! It's that time of year again….Time to spend too much, drink too much, eat too much, smile falsely, dig down deep to try and find "good cheer," battle crowds, try to find parking in over-crowded lots, ignore surly clerks, bartenders, waiters, valets, and parking lot attendants, all in the pursuit of that moment of happiness known throughout the world as…dun, dun, dun: the Holidays. Has there ever been a time more suited to tapping into snark? With commentary, jokes, and quotes regarding Thanksgiving, Christmas, Hanukkah, Kwanza, New Year's; on bad presents, worse in-laws, horrible children, and much more glorious excess. Enjoy such rotten sugar plums as:

     • "Santa Claus has the right idea. Visit people once a year."—Victor Borge
     • "If someone screws up on their gift, there are seven more days to correct it...No awkward explanations of virgin birth...No Irving Berlin songs."—Among the Top Ten Reasons to Love Hanukkah
     • "What I don't like about office Christmas parties is looking for a job the next day."—Phyllis Diller

The Snark Handbook: Christmas Edition is destined to be a holiday classic.
About the Author
---
Lawrence Dorfman has more than thirty years of experience in the bookselling world, including stints at Simon and Schuster, Penguin, and Harry N. Abrams. He is the author of the Snark Handbook series including The Snark Handbook: Politics and Government Edition, The Snark Handbook: Insult Edition; The Snark Handbook: Sex Edition, Snark! The Herald Angels Sing, and The Snark Handbook: Clichés Edition. He lives in Connecticut.