The Best Horror of the Year Volume Nine (Paperback)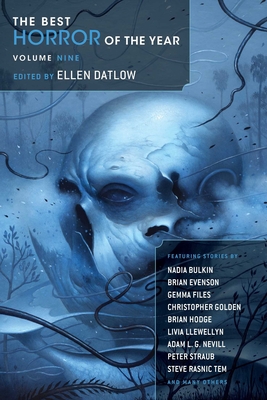 $15.99
Email or call for price.
Description
---
An elderly man aggressively defends his private domain against all comers—including his daughter;a policeman investigates an impossible horror show of a crime; a father witnesses one of the worst things a parent can imagine; the abuse of one child fuels another's yearning; an Iraqi war veteran seeks a fellow soldier in his hometown but finds more than she bargains for . . .

The Best Horror of the Year showcases the previous year's best offerings in short fiction horror. This edition includes award-winning and critically acclaimed authors Adam L. G. Nevill, Livia Llewellyn, Peter Straub, Gemma Files, Brian Hodge, and more.

For more than three decades, award-winning editor and anthologist Ellen Datlow has had her finger on the pulse of the latest and most terrifying in horror writing. Night Shade Books is proud to present the ninth volume in this annual series, a new collection of stories to keep you up at night.

Table of Contents: Summation 2016 - Ellen Datlow Nesters -- Siobhan Carroll The Oestridae -- Robert Levy The Process is a Process All its Own -- Peter Straub The Bad Hour -- Christopher Golden Red Rabbit -- Steve Rasnic Tem It's All the Same Road in the End -- Brian Hodge Fury -- DB Waters Grave Goods -- Gemma Files Between Dry Ribs -- Gregory Norman Bossert The Days of Our Lives -- Adam LG Nevill House of Wonders -- C.E. Ward The Numbers -- Christopher Burns Bright Crown of Joy -- Livia Llewellyn The Beautiful Thing We Will Become -- Kristi DeMeester Wish You Were Here -- Nadia Bulkin Ragman -- Rebecca Lloyd What's Out There? -- Gary McMahon No Matter Which Way We Turned -- Brian Evenson The Castellmarch Man -- Ray Cluley The Ice Beneath Us -- Steve Duffy On These Blackened Shores of Time -- Brian Hodge Honorable Mentions
About the Author
---
Ellen Datlow has been editing science fiction, fantasy, and horror short fiction for more than thirty years. She was the fiction editor of Omni magazine and Sci Fiction and has edited more than fifty anthologies. Datlow has also won lifetime achievement awards from three prominent genre organizations, and currently acquires short fiction for Tor.com.
Praise For…
---
Praise for Ellen Datlow and The Best Horror of the Year Series:

"Award-winning editor Ellen Datlow has assembled a tasty collection of twenty one terrifying and unsettling treats. In addition to providing excellent fiction to read, this is the perfect book for discovering new authors and enriching your life through short fiction."—Kirkus Reviews

"For more than three decades, Ellen Datlow has been at the center of horror. Bringing you the most frightening and terrifying stories, Datlow always has her finger on the pulse of what horror fans crave. . . . and the anthologies just keep getting better and better. She's an icon in the industry."—Signal Horizon

"Datlow's The Best Horror of the Year series is one of the best investments you can make in short fiction. The current volume is no exception."—Adventures Fantastic

"As usual, Datlow delivers what she promises, 'the best horror of the year,' whether it's written by the famous (Neil Gaiman) or the should-be famous (Laird Barron and many others)."
—Washington Post

"You just can't have a list of recommended speculative anthologies without including an Ellen Datlow anthology. It's. Not. Possible. The line-up in The Best Horror of the Year Volume Eight is absolutely stupendous, featuring the most frighteningly talented authors in horror fiction."—Tor.com

"Once again, [Ellen Datlow supplies] an invaluable book, featuring excellent short fiction and, in addition, providing as always precious information about what happened in the horror field last year."—Mario Guslandi, British Fantasy Society

Praise for Ellen Datlow and The Best Horror of the Year Series:

"Award-winning editor Ellen Datlow has assembled a tasty collection of twenty one terrifying and unsettling treats. In addition to providing excellent fiction to read, this is the perfect book for discovering new authors and enriching your life through short fiction."—Kirkus Reviews

"For more than three decades, Ellen Datlow has been at the center of horror. Bringing you the most frightening and terrifying stories, Datlow always has her finger on the pulse of what horror fans crave. . . . and the anthologies just keep getting better and better. She's an icon in the industry."—Signal Horizon

"Datlow's The Best Horror of the Year series is one of the best investments you can make in short fiction. The current volume is no exception."—Adventures Fantastic

"As usual, Datlow delivers what she promises, 'the best horror of the year,' whether it's written by the famous (Neil Gaiman) or the should-be famous (Laird Barron and many others)."
—Washington Post

"You just can't have a list of recommended speculative anthologies without including an Ellen Datlow anthology. It's. Not. Possible. The line-up in The Best Horror of the Year Volume Eight is absolutely stupendous, featuring the most frighteningly talented authors in horror fiction."—Tor.com

"Once again, [Ellen Datlow supplies] an invaluable book, featuring excellent short fiction and, in addition, providing as always precious information about what happened in the horror field last year."—Mario Guslandi, British Fantasy Society