The Crime of the Century: Richard Speck and the Murders That Shocked a Nation (Paperback)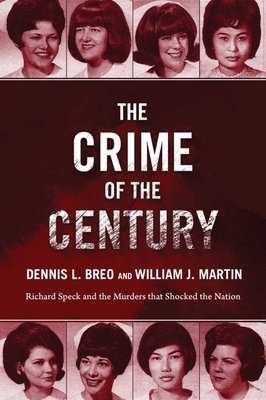 $16.99

Usually Ships in 1-5 Days
Description
---
"One of the finest true crime books ever written…. This book hits you like a locomotive, detailing how Speck's crime shattered our innocence….Go out and buy The Crime of the Century as soon as possible."—Rick Kogan, author, Everybody Pays

On July 14th, 1966, Richard Franklin Speck swept through several student nurses' townhouse like a summer tornado and changed the landscape of American crime. He broke in as his helpless victims slept, bound them one by one, and then stabbed, assaulted, and strangled all eight in a sadistic sexual frenzy. By morning, only one young nurse had miraculously survived. The killer was captured in seventy-two hours; he was successfully prosecuted in an error-free trial that stood up to appellate scrutiny; and the jury needed only forty-nine minutes to return a death verdict.

Here is the story of Richard Speck by the prosecutor who put him in prison for life with a brand-new introduction by Bill Kunkle, the prosecutor of the infamous John Wayne Gacy Jr.

In The Crime of the Century, William J. Martin has teamed up with Dennis L. Breo to re-create the blood-soaked night that made American criminal history, offering fascinating behind-the-scenes descriptions of Speck, his innocent victims, the desperate manhunt and massive investigation, and the trial that led to Speck's successful conviction.
About the Author
---
Dennis L. Breo is an author, a journalist, and the former national correspondent of the Journal of the American Medical Association (JAMA). His cover story on the Speck murders, published in the Chicago Tribune Sunday Magazine, won an award for exemplary journalism from the Chicago Headline Club. His work has also appeared in Parade, People, Chicago Magazine, Reader's Digest, USA Today, Los Angeles Times, and New York Times. This is his fifth book. He lives in New Smyrna Beach, Florida.

William J. Martin graduated from Loyola University School of Law. He was sworn in as an Illinois assistant state's attorney in 1962. He was twenty-nine years old when assigned to the Speck case. After leaving the state's attorney's office, Bill became the director of prosecution and defense graduate programs in criminal law at Northwestern School of Law and taught law at Newberry Library and Rosary (now Dominican) College. He lives in Oak Park, Illinois.
Praise For…
---
"The Crime of Century is the brilliantly written and factual precise recreation of the brutal murder of eight nurses by Richard Speck fifty years ago in a Chicago hospital town house. No crime fiction can match this page-turning account of human evil and courtroom drama. William J. Martin, Speck's prosecutor, and Dennis L. Breo wrote the first edition of this stunning and powerful book in 1993. As the 50th anniversary of the horrible crime approaches, a second edition packed with new information from the lone survivor of that evil night along with fresh, chilling material makes the book even more compelling than its original. You won't put it down." -- Bernard Judge

"The Crime of Century is the brilliantly written and factual precise recreation of the brutal murder of eight nurses by Richard Speck fifty years ago in a Chicago hospital town house. No crime fiction can match this page-turning account of human evil and courtroom drama. William J. Martin, Speck's prosecutor, and Dennis L. Breo wrote the first edition of this stunning and powerful book in 1993. As the 50th anniversary of the horrible crime approaches, a second edition packed with new information from the lone survivor of that evil night along with fresh, chilling material makes the book even more compelling than its original. You won't put it down." -- Bernard Judge