The Devil and Karl Marx: Communism's Long March of Death, Deception, and Infiltration (Hardcover)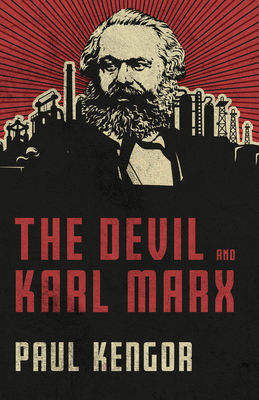 $29.95
Email or call for price.
Description
---
Two decades after the publication of The Black Book of Communism, nearly everyone is or at least should be, aware of the immense evil produced by that devilish ideology first hatched when Karl Marx penned his Communist Manifesto two centuries ago. Far too many people, however, separate Marx the man from the evils wrought by the oppressive ideology and theory that bears his name. That is a grave mistake. Not only did the horrific results of Marxism follow directly from Marx's twisted ideas, but the man himself penned some downright devilish things. Well before Karl Marx was writing about the hell of communism, he was writing about hell. "Thus Heaven I've forfeited, I know it full well," he wrote in a poem in 1837, a decade before his Manifesto. "My soul, once true to God, is chosen for Hell." That certainly seemed to be the perverse destiny for Marx's ideology, which consigned to death over 100 million souls in the twentieth century alone. No other theory in all of history has led to the deaths of so many innocents. How could the Father of Lies not be involved? At long last, here, in this book by Professor Paul Kengor, is a close, careful look at the diabolical side of Karl Marx, a side of a man whose fascination with the devil and his domain would echo into the twentieth century and continue to wreak havoc today. It is a tragic portrait of a man and an ideology, a chilling retrospective on an evil that should have never been let out of its pit.
About the Author
---
Paul Kengor, Ph.D., is professor of political science at Grove City College in Grove City, Pennsylvania, and a New York Times bestselling author of over a dozen books. He is senior director and chief academic fellow at the Center for Vision & Values at Grove City College and a fellow with Stanford's Hoover Institution. Kengor is an internationally recognized authority on Ronald Reagan, the Reagan presidency, the Cold War, communism, socialism, and conservatism, and a frequent commentator and speaker. Dr. Kengor is often quoted in sources ranging from USA Today to the Washington Post and has been frequently interviewed by the BBC, MSNBC, NPR, Fox News, EWTN, the Christian Broadcasting Network, by radio hosts ranging from Glenn Beck to Mark Levin to Bill Bennett, and by TV personalities like Megyn Kelly and Bill O'Reilly and Joe Scarborough. His articles have appeared in many publications: the New York Times, National Review, CNN.com, Wall Street Journal, Christianity Today, and many more. He is a longtime columnist and senior editor for The American Spectator and a frequent contributor to the National Catholic Register and Crisis Magazine. Dr. Kengor's books have been published by HarperCollins, Simon & Schuster, Harvard University Press, Oxford University Press, Ignatius Press, the Intercollegiate Studies Institute, and many others. In 2017, Dr. Kengor released what has been described as his "magnum opus," A Pope and a President: John Paul II, Ronald Reagan, and the Extraordinary Untold Story of the 20th Century. Among his bestsellers are the 2012 book, The Communist, and his 2004 classic, God and Ronald Reagan. Several of his books are the basis for major film works. Kengor is a frequent public speaker, with venues that include the Ronald Reagan Library, the Reagan Ranch Center, the National Press Club, the Heritage Foundation, Princeton University's James Madison Program, American Enterprise Institute, the Center for Strategic & International Studies, the Gerald Ford Library, the National Presbyterian Church, the Fulton Sheen Cultural Center, and colleges ranging from the University of Virginia to the College of William & Mary to the U.S. Naval Academy. Kengor received his doctorate from the University of Pittsburgh's Graduate School of Public and International Affairs and his master's degree from The American University's School of International Service. He also holds an honorary doctorate from Franciscan University (Steubenville, Ohio). He and his wife, Susan, have eight children, two of which are adopted.