Me for You (Paperback)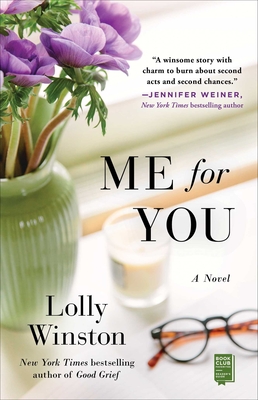 $16.99
Email or call for price.
Description
---
This "winsome story with charm to burn about second acts and second chances" (Jennifer Weiner, New York Times bestselling author) from the New York Times bestselling author of Good Grief asks us how soon is too soon to fall in love again?

Rudy never expected to be a widower at fifty-four-years-old. Now, ten months after the untimely death of his beloved wife, he's still struggling with how to move on from the overwhelming tragedy—but at least his new job is helping.

After being downsized from his finance position, Rudy turned to his first love: the piano. As the piano player at Nordstrom, Rudy finds immense joy in bringing a little music into the world. And it doesn't hurt that Sasha, the men's watch clerk who is finally divorcing her no-good husband, finds time to join him at the bench every now and then.

Just when Rudy and Sasha's relationship begins to deepen, the police reveal a shocking update about Rudy's wife's untimely death and now they want a second look at him, too. With Sasha's husband suddenly reappearing, and Rudy's daughter confronting her own marital problems, life becomes more complicated than Rudy and Sasha could have ever imagined.

Perfect for fans of Jennifer Weiner and Fredrik Backman, Me for You is "an immensely readable, emotionally honest examination of the aftermath of grief and loss. Lolly Winston masterfully weaves humor with pathos in this story of second chances, all-too-human foibles, unlikely love, and an uplifting message of hope" (Susan Wiggs, New York Times bestselling author).
About the Author
---
Born and raised in Hartford, Connecticut, Lolly Winston holds an MFA in creative writing from Sarah Lawrence College, where she wrote a collection of short stories as her thesis. She is the author of New York Times bestselling novels Good Grief and Happiness Sold Separately, the latter of which is being developed as a film. Her short stories have appeared in The Sun, The Southeast Review, The Third Berkshire Anthology, Girls' Night Out, and others. She's contributed essays to the anthologies Kiss Tomorrow Hello and Bad Girls.
Praise For…
---
"A winsome story with charm to burn about second acts and second chances."
— Jennifer Weiner, New York Times bestselling author of Mrs. Everything

"Okay, I'm a sucker for a love story. Add gut-busting humor, an unflinching examination of grief, and characters who walk straight into your heart and I'm wowed. Thank you, Lolly Winston."


— Ellen Sussman, New York Times bestselling author of French Lessons

"I loved this novel, an immensely readable, emotionally honest examination of the aftermath of grief and loss. Lolly Winston masterfully weaves humor with pathos in this story of second chances, all-too-human foibles, unlikely love, and an uplifting message of hope."
— Susan Wiggs, New York Times bestselling author of Between You and Me

"The story uses quiet prose and unexpected moments of gentle humor to illustrate the importance of human connection during trying times. … [A] poignant story about loss, unexpected connections, and the circuitous path toward healing."
— Kirkus Reviews

"Lolly Winston has a masterful way of describing the nuanced, complicated feelings we all experience, but can't always find words to explain. Me for You is a sensitive look at grief, mental health, and the courage it takes to love after loss."


— Allie Larkin, internationally bestselling author of Swimming for Sunlight and Stay

"Warm, witty, and wise, Me for You will delight Lolly Wiston's loyal following and earn her a whole new generation of fans. An exquisitely wrought window into an oft-ignored subject, mid-life love, and a reminder that grief and joy can live side by side. Fiction at its best shows us the light at the end of the tunnel; that light burns brightly here."
— Michelle Richmond, New York Times bestselling author of The Marriage Pact

"The author understands how grief connects people and how life's problems cause some to lose their footing. Winston injects humor into a tough subject and makes a strong case for honoring the departed by making the most out of life, in this nonsentimental and uplifting story about how to navigate through grief."
— Publishers Weekly

"Fans of Jonathan Tropper and Winston's other books will want to see Rudy safely along his journey."
— Bette-Lee Fox, Library Journal