The Walking Bread (A Bread Shop Mystery #3) (Mass Market)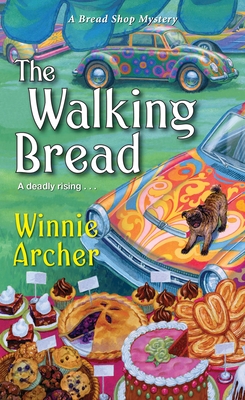 $7.99
Email or call for price.
Other Books in Series
This is book number 3 in the A Bread Shop Mystery series.
Description
---
Beloved Mexican bakery Yeast of Eden has scored the catering deal at the annual Santa Sofia, California, art car parade and ball. But when a contestant turns up dead, making bread will be the yeast of their problems . . .
 
Apprentice baker Ivy Culpepper sees art cars everywhere she turns. Besides helping prepare the bread and pastry for Santa Sofia's annual spring event, she's the official photographer, documenting the elaborate cars, outspoken artists, and riotous celebrations. Even her family's in on the act: her brother Billy has been runner-up in the competition more times than she can count—but this is going to be the year he celebrates his win in the victory lane.
 
But after Billy's rival, Max Litman, revs up his bombastic showmanship, Billy is once again set to cruise into second place. Until Max is found dead—positioned as a prop in his own art car. The whole town knows there's no love lost between the two men, and Billy is the prime suspect. Now Ivy will have to sift through collusion, deception, gossip, and lies to find out what really happened. But with the help of her octogenarian Watson, her restaurateur beau, and her adopted aunts at Yeast of Eden, she knows she can take the heat . . .
About the Author
---
The indefatigable Winnie Archer is a middle school teacher by day and a writer by night. Born in a beach town in California, she now lives in an inspiring century-old house in North Texas and loves being surrounded by real-life history. She fantasizes about spending summers writing in quaint, cozy locales, has a love/hate relationship with both yoga and chocolate, adores pumpkin spice lattes, is devoted to her five kids and husband, and can't believe she's lucky enough to be living the life of her dreams. Visit her online at WinnieArcher.com.